UK Invoice Templates
UK business owners & sole traders can use our free invoice template in Excel, Word & PDF – with or without VAT. Zervant invoicing software is feature-packed and is faster, more secure and easier to manage than using an invoice template.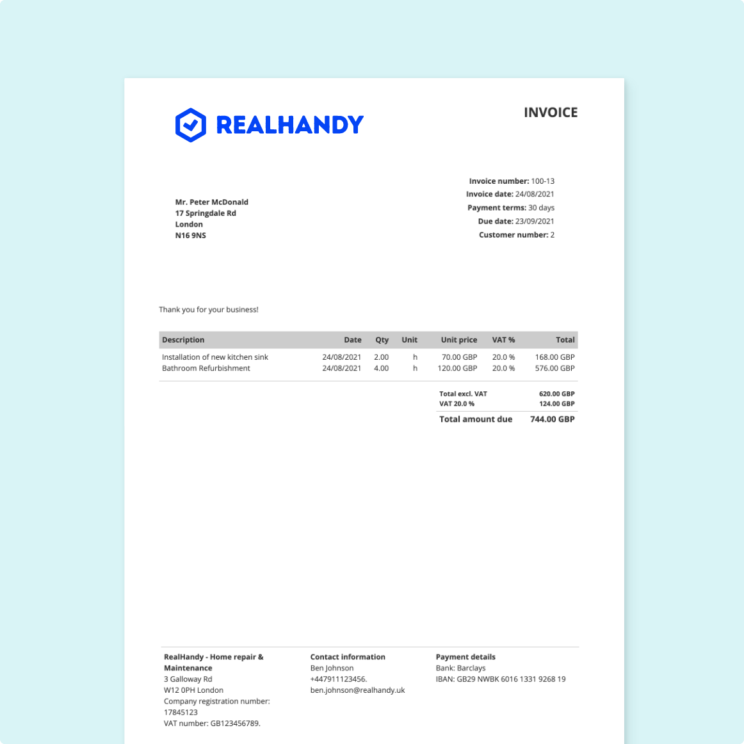 ---
---
Choose a Design and Download
Ozwin Casino is an online casino that offers a variety of casino games, including slots, table games, video poker, and more. If you're looking to
login to Ozwin Casino
, you've come to the right place. In this article, we'll guide you through the process of logging in to Ozwin Casino online.
Step 1: Visit the Ozwin Casino Website
The first step in logging in to Ozwin Casino is to visit the website. You can do this by typing "Ozwin Casino" into your web browser's search bar, or by entering the URL "https://www.ozwincasino.gg/" directly into the address bar.
Step 2: Click on the "Login" Button
Once you're on the Ozwin Casino website, look for the "Login" button. It's usually located in the upper right-hand corner of the screen. Click on this button to be taken to the login page.
Step 3: Enter Your Login Details
On the login page, you'll be prompted to enter your email address and password. If you've previously registered an account with Ozwin Casino, you should have received an email with your login details. If you can't find this email, you can click on the "Forgot Password?" link to reset your password.
Step 4: Click "Login"
After you've entered your login details, click on the "Login" button to log in to your account. Once you're logged in, you'll have access to all the games and features that Ozwin Casino has to offer.
In conclusion, logging in to Ozwin Casino online is a quick and easy process. Simply visit the website, click on the "Login" button, enter your login details, and click "Login." If you're having trouble logging in, be sure to contact customer support for assistance.
Create a free invoice with these professionally designed, UK invoice templates. Pick a design that fits your brand and download the template in Microsoft Word or Excel. If you don't have Word or Excel, try our online invoice generator or create a free Zervant account for an invoicing software which grows with your business.
VAT invoice templates
Non-VAT invoice templates
What goes on an invoice
The sample invoice template on the right shows exactly what is required on a UK invoice.
With Microsoft Word templates you have to manually calculate the numbers, but the Excel invoice templates use formulas to calculate these for you, including the invoice due-date, totals and VAT.

For further guidance, see our article on how to write an invoice and, if none of these templates match your brand, check out our guide on how to create a professional invoice template.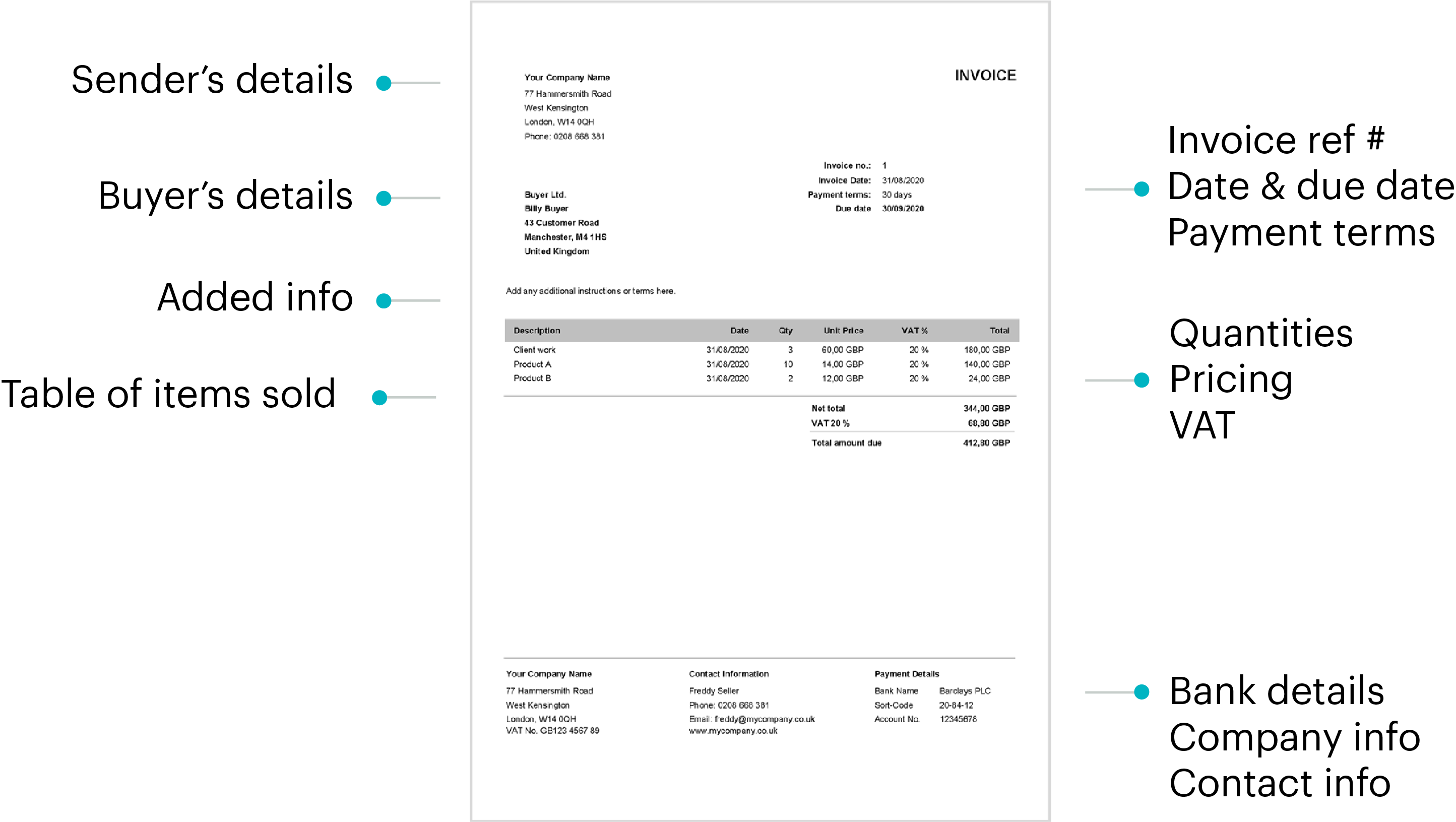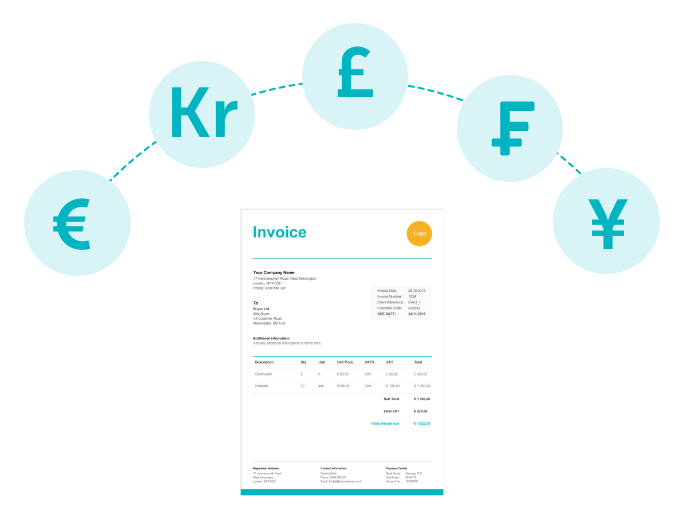 Choosing the right template
These invoice templates are suitable for freelance work, for sole traders and for larger, VAT registered companies – just check whether you're downloading a VAT invoice or a non-VAT invoice.
Note, on this page you'll find UK invoice templates, but you can easily edit the cells to invoice in any currency. Alternatively, select a different language from the top menu to download invoice templates in another language.
How to use these templates
Have a look at the video on the right to learn how to fill out an invoice template in Microsoft Excel. No matter the format, the instructions are simple: download your favourite design, replace the sample data, add line items and payment instructions then you're done!

Export the invoice as a PDF and send it to your client via email, text or print it off and send it by post. Check out our guide on writing the perfect invoice email – we've even included an invoice email template for free to get you started.
---
Find templates and more on our blog
Whether you're looking to learn more about invoicing and accounting or looking for simple advice like how to deal with late payments, we've got you covered. On the Zervant blog you can read our insights on running a small business and utilize some of the free invoicing and accounting tools – take this free estimate template for example.

Invoice faster with Zervant
Save customers and products to a secure cloud database and create a new invoice in just a few clicks. On the Zervant dashboard you can clearly track overdue and unpaid invoices and get an overview of how your business is doing financially.