Simple, Powerful Invoicing Software
Start using Zervant for free and send your first invoice in under a minute
Create a free account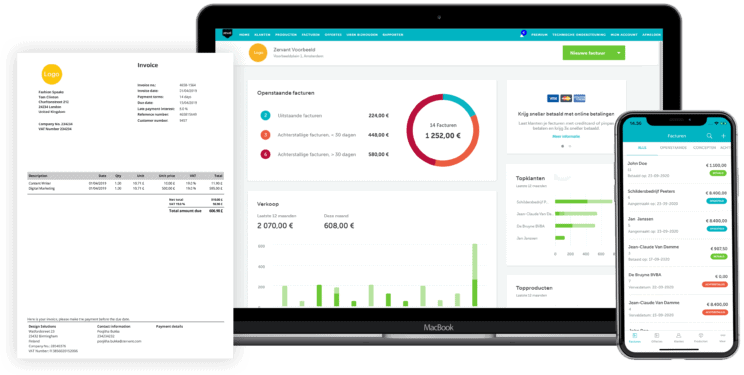 Delivery Note Template
Download now in Excel or Word
Download free template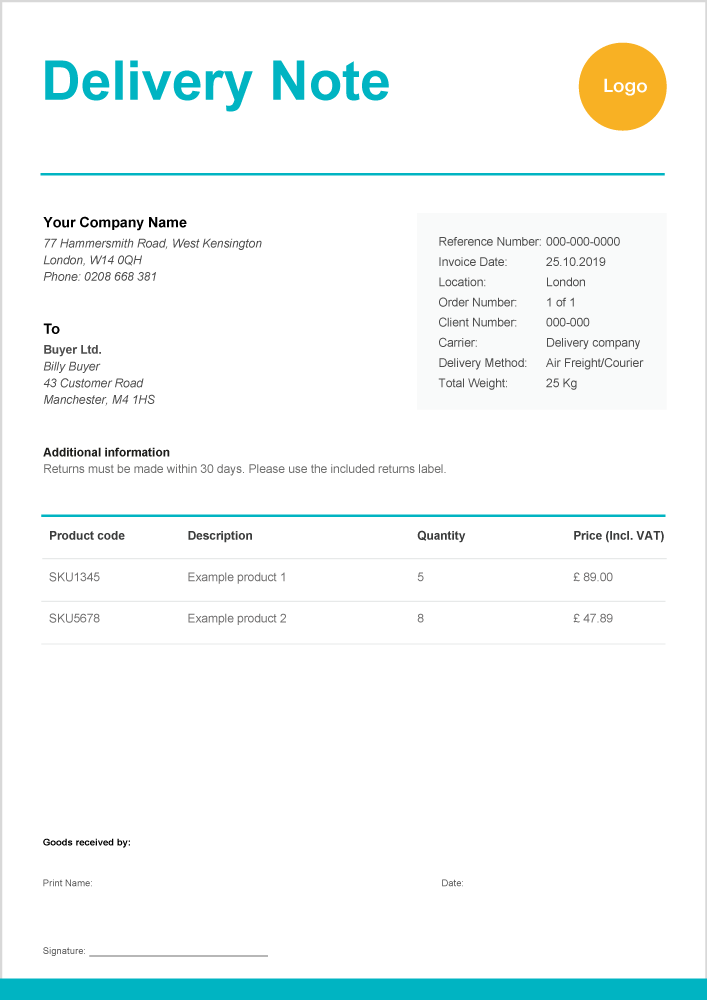 Delivery Note Template | Free Download in Word or Excel
A delivery note is a document that your customers might appreciate when products are delivered. While it can sometimes be confused with an invoice, a delivery note has its own purpose, should include certain information and can give your business' reputation an additional level of proficiency.
With Zervant, our users can easily create a delivery note from an invoice. However, in this article we are offering a free downloadable Word, Excel or PDF template that will get you started, as well as explaining everything you need to know about delivery notes.
Note: The links for the free downloads can be found below.
What is a delivery note?
A delivery note is known by many names:
Goods receipt
Dispatch note
Goods received note
Packing slip
It is a commercial document that accompanies a shipment of goods and lists all the products ordered, their description and the quantity delivered.
A copy of a delivery note may be signed by the recipient and returned to the seller or consignor as proof of delivery, which is then known as 'signed for delivery' or 'recorded delivery'. Once signed, you can be confident that your goods have reached their intended destination.
Download our free delivery note template
Signing up to Zervant's invoicing software allows users to easily create a delivery note from existing invoices. In the meantime, try our free delivery note template for free below.
Delivery Note Template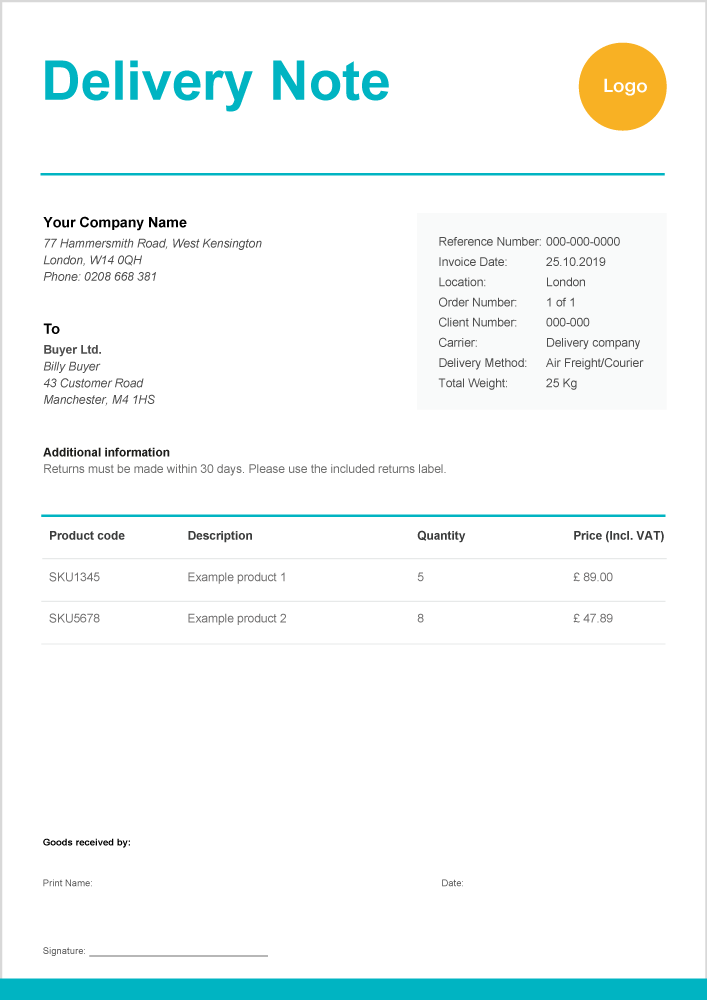 Try our free invoicing software
---
Are delivery notes compulsory?
"Delivery notes aren't required by law, but they can simplify the business process between you and your customers. If you are using them for legal conformity, you can even use delivery notes in court as prima facie evidence," writes Ionos, a hosting and cloud partner for SMEs.
While not compulsory in the UK, they are practical and have become standard when shipping goods. It is strongly advised that you do include a delivery note with your deliveries because they are considered an added service that can put your customer's mind at ease.
What is the purpose of a delivery note?
Since it is important to ensure the correct sending and receiving of products, the purpose of a delivery note helps customers to check whether anything is missing and reassures suppliers that the delivery went well.
What are the benefits for suppliers?
The benefits of a delivery note include:
Adds another level of professionalism to your service
Is an opportunity to expose the customer to your brand again
Provides additional information on returns
Provides a level of protection for both the buyer and the seller
Note: It is considered good business practice to have two copies of each delivery note – one for your records and one for the customer.
Delivery notes are an inventory tool that assure a smooth packing and shipping process. It provides the logistics department with improved stock management of the input and output of goods, as well improving communication between the accounting and warehouse departments.
What are the benefits to customers?
Since every item contained in a delivery note must be in the accompanying shipment, the document gives customers an overview of the products they have ordered and the ability to easily cross check those received.
If an item is missing, then your customer can contact you as soon as possible.
The delivery note will list whether any goods in the original order are not enclosed due to lack of stock or unavailability, for example.
Likewise, if any of the delivered goods are damaged, the courier or delivery personnel can make a note on the delivery note and you can then send a replacement or issue a credit note.
What is the difference between an invoice and a delivery note?
While a delivery note is similar to an invoice in many ways, it cannot replace it entirely because a delivery note only gives details of the quantity supplied and does not list the prices of products.
Invoices are prepared by accounting and don't require any acknowledgement from the buyer, while delivery notes are prepared by logistics and must usually be acknowledged, explains a blog for the Indian city of Kalyan.
Note: Delivery notes cannot be used for making accounting entries.
Remember that you must always produce an invoice and it is normally sent after the goods have been dispatched. Check out our free invoice template, free invoice generator or our free invoicing software.
Can a delivery note include the price?
While a delivery note can display the prices of products and the total amount paid, it is inadvisable to do so.
You do not know if the order was a gift or if something has been ordered from one business and is being sold on by somebody else for a profit. The logic is that the person who is delivering or even receiving the goods should not see the cost.
However, depending on the industry and the products being shipped, some suppliers do choose to include the unique product numbers.
What should be included in a delivery note?
Since there is no legal obligation to issue delivery notes, there are no strict rules dictating what to include when creating one. However, they should still adhere to a certain structure to ensure that all important details are included and maintain clear communication with your customer.
While there are no compulsory fields to include, you should consider including:
Name and address of your company
Name and address of your client, so can they know whether the goods received are for them
Date of order, shipment and expected delivery
Order number / name
List of goods included
Subsequent deliveries if they are to be expected
According to Informi, a UK-based firm providing support to SMEs, sole-traders and start-ups, "it may also be useful to show which items are not included, for example the customer may have ordered something which is out of stock."
They add that if you use a third party to deliver your goods, a courier company for example, you may wish to include delivery instructions as well.
As mentioned earlier, a delivery note usually has an empty field for the receiver's signature (or stamp) that confirms the delivery was received.
How should a delivery note look?
Your delivery notes should be consistent in appearance and always contain the same basic information, so think about creating a standard template.
The layout and content of a delivery note can be edited with an ordinary word-processing program, like Microsoft Word, or spreadsheet program, such as Excel.
We invite you to download our free delivery note template at the end of this article, which contains all the relevant information, and adapt it to your needs. It's simple and totally free of charge.
Finally, don't forget to add your company branding and make it consistent with all of your communication materials. As Debitoor reminds us, "This makes a shipment more easily identifiable to your customer, as well as extends your company branding and your professional image."
How to send a delivery note?
The most common method of sending delivery notes to customers is to include a version in paper format and include it along with the shipment.
However, an increasing number of delivery notes are now being emailed when the goods are dispatched. Not only does this remind the customer that a package is on the way, but also provides an overview of what they ordered, which can be helpful for larger deliveries, suggests Holded, a Spanish cloud-based ERP software firm.
Do I need to keep delivery notes?
Both customers and suppliers are advised to attach the delivery note, or a copy, to the invoice and then archive them for a period of six years.
Physical delivery notes that have been signed or have a date stamp can be digitized easily, advises Ionos. "As long as it's legible, you can simply scan the document and place it in your computer files. [This] will save you a lot of money and you can quickly access all of your dispatched delivery notes on your computer whenever you need them."
Ready to start your business? You might find this useful…