Zervant Grows With You
You can manage your invoices and estimates right away for free and upgrade only when you need to.
* Yearly subscriptions are renewed automatically each year. You can cancel your plan any time from the "My Account" section of the Zervant dashboard.
** Premium deliveries are invoices delivered through post or as e-invoices. An e-invoice is not an invoice sent by e-mail, but a fully-automated, digital invoicing format. Learn more about e-invoicing below.

*** Bank feeds are powered by Enable Banking. The service is currently only available in Finland, Sweden, Netherlands, Belgium and Germany.

If you/your company are registered for VAT in the country where you/your company are registered, you are not required to pay VAT on any services purchased from Zervant. However, if you/your company are not registered for VAT, you will be charged the Finnish rate of VAT (24%) on any services purchased from Zervant (standard under EU law).
Can't find a plan that's big enough for your needs?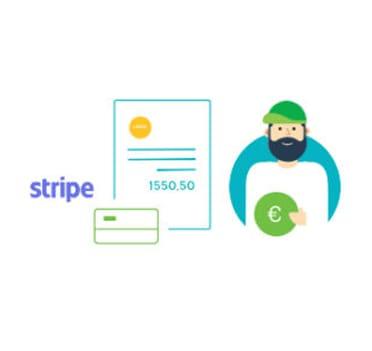 Get paid faster by accepting card payments
Let your customers pay your invoices easily by credit or debit card directly from the invoice. The transaction fee is only 1.9% of the invoice value + a flat €0.25 fee (for cards issued in Europe). You'll only be charged if your customer pays the invoice online. Read more about online payments.
Frequently asked questions
Can I use Zervant for free?
With Zervant you can create an unlimited number of invoices and estimates, send them to your customers and track your invoice statuses for free. You can also follow your income with different financial reports which you can export to your accountant.
Is your customer support free?
Customer support is always free and available in English, French, German, Finnish and Swedish.
How can I pay?
You can subscribe to a Premium plan using Credit or Debit card, or SEPA direct debit (Eurozone only).
How does the 14-day free trial work?
All our monthly-paid Premium plans start with a 14-day free trial. This means you don't have to pay anything for the first 14 days, so in the event that you decide to cancel your subscription, you won't be charged a thing! Note: you can only use this free trial once and only on plans which are paid monthly.
What happens after my free trial?
After your free trial, you will be subscribed to your plan of choice and will be charged monthly for using our Premium features. This will occur automatically, so there's no need to worry about having to transferring any of your data!
Will the Premium plans remain the same indefinitely?
Zervant is a SaaS (Software as a Service) company, meaning that it is constantly updated and improved. However, as we're constantly working on improving our software and adding more features to our Premium plans, there may be times when we need to make changes to both our Free and Premium plans.
Our core product, sending an unlimited number of invoices by email, is still free and will remain free. However, Zervant reserves the right to make changes to both the free and Premium plans (given the necessary notification period) as outlined in our Terms of Service.
Do the Premium plan prices include VAT?
If you don't have a VAT number, the Finnish rate of VAT (24%) will be added to the price of your monthly subscription (as is standard under Finnish and EU law). However, if you have a VAT number, you can enter it when subscribing and this way you won't be charged any VAT when subscribing to Zervant.
Why should I use Zervant instead of buying another software?
Zervant is a SaaS company (Software as a Service). This means that we charge a monthly recurring subscription fee rather than a full, downloadable product. As such, Zervant will be constantly updated and improved over time, always offering you better value for money and new functions to help you get paid faster. This also means that you're not tied into a long-term subscription or stuck with an expensive software, if you decide that Zervant is not for you.

Use Zervant For Free Today
You can use Zervant for free and only upgrade to use the Premium features when you need them. Upgrading couldn't be easier, just look for Premium plans under "My Account" within the Zervant dashboard.