Invoicing Made Easy
Try Zervant and invoice 5 customers, completely free.
Create Free Account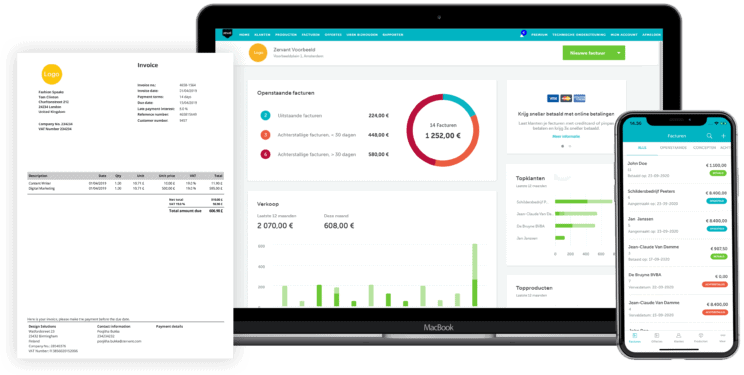 Order Form Template
Download a free template in Word below.
Download Template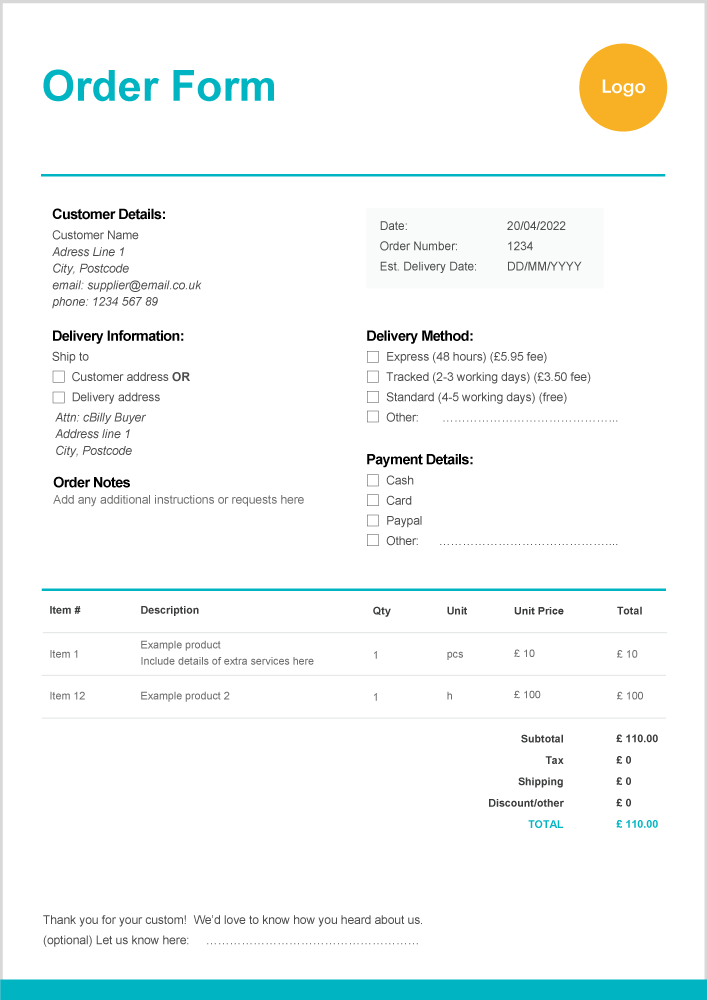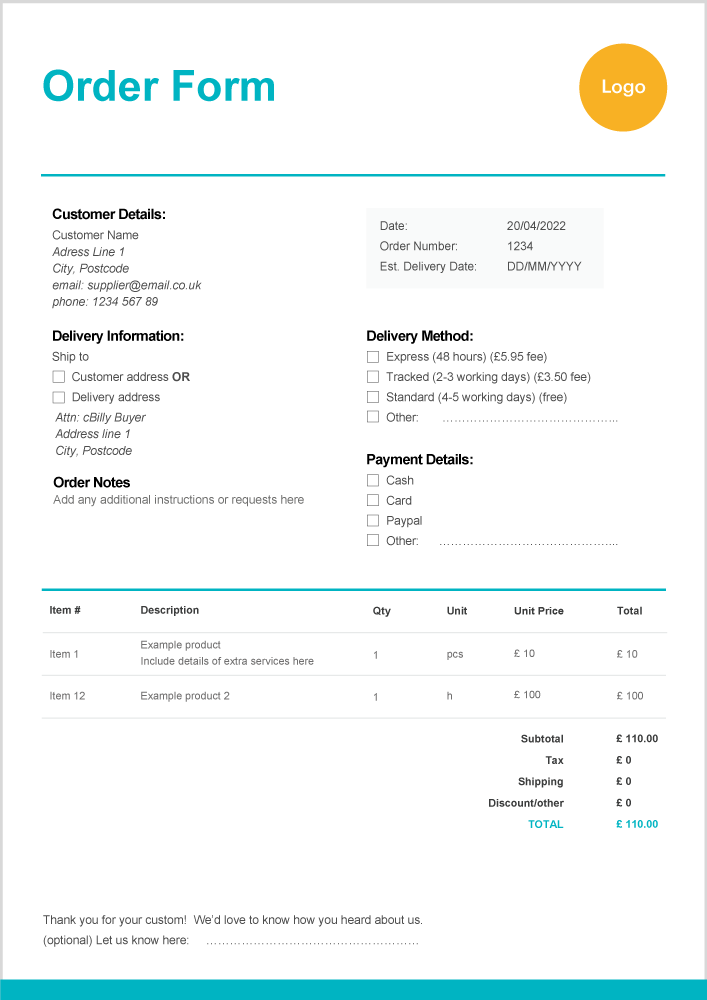 Free Order Form Template
It's here! A blank order form template that is available to download for free in MS Word format. No sign ups or new accounts required!
If you are not already using an order form in your business, read on now to learn more about what they are, and why you should start!
What is an order form?
An order form, or request form, is something that you can give to your customers to use to place an order with your business. It collects all of the information that you need to complete an order for a customer and stores it in one place. Very handy!
Who should use this order form template?
Our order form template is ideal for the business owners out there with a business that deals with products – a business with a physical, bricks-and-mortar aspect to it. If you run a wholly e-commerce business do not fret, as there are many online order form templates out there that you can use too!
For starters, check out Jotform, HubSpot and smartsheet, who all have custom order form templates that you can integrate into your website and use in conjunction with our free invoice templates and invoicing software.
Order form v purchase order form
We recently shared a purchase order form template on our blog. Although the two are similar and can be easily confused, an order form is not the same as a purchase order form. This is because the business/payment models that they are based on are different. 
A purchase order form is typically created by a customer who sets their own terms for their purchase of a business' goods or services. Often, the customer will pay for the goods or services after they have been delivered.
As you might imagine this can create cashflow difficulties for a business owner. Taking the time to create and build an order form that works for you puts you in control of the payment terms and allows you to reap the many other benefits of a streamlined ordering process.
What are the benefits of using an order form?
There are numerous benefits to your business when you use a custom order form. Here's the top three we think you should note:
Uniform terms that work for you and your customers
All of your orders will be based on the same terms that you choose. This means that you are in control of the process and you can manage your customer's expectations from the outset. This will (hopefully!) result in happy, repeat customers!
Simple and efficient
Your order form collects all of the information that you need to complete and customise orders for clients. This streamlines the ordering process, saves any unnecessary back and forth between you and your customer (which benefits them too!) and allows you to focus your time on getting things done!
Improved record keeping
Your order forms can become an invaluable resource, whether that be for accounting, strategizing or marketing purposes, that saves you time now and in the future.
Order Form Template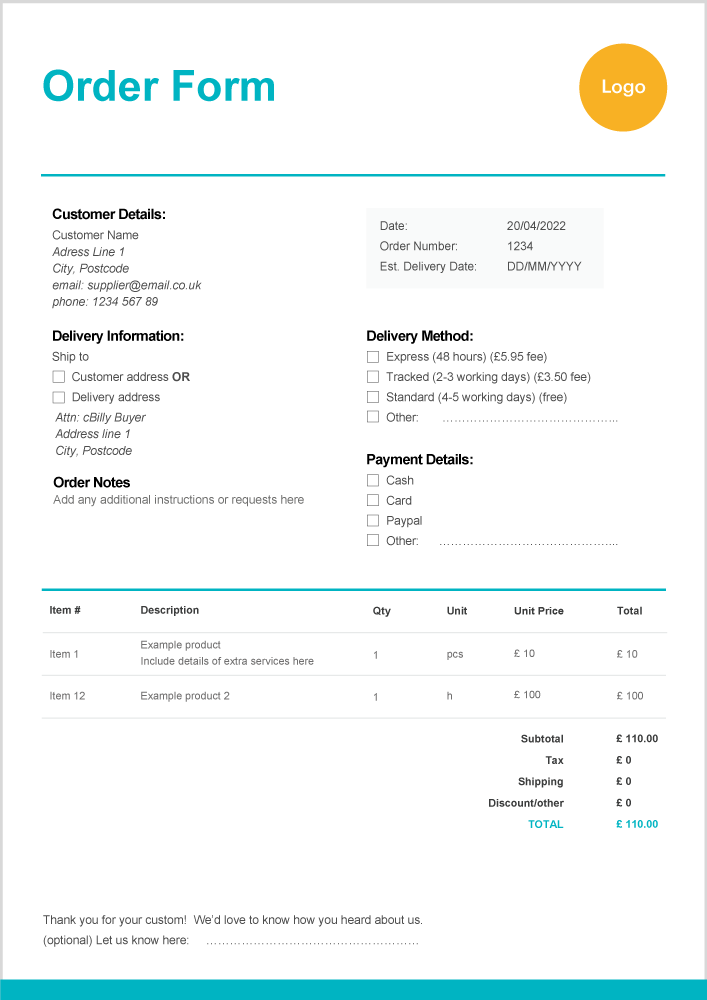 Manage your business finances with Zervant
Download: Word
How to use our free order form template
This is a basic order form template that you can add your branding to and adapt to suit your specific business needs whatever your service or product.
To use it, all you need to do is have a think about what information you need to complete an order and add this to the template. Maybe you need an email address to send an order confirmation email to your customer.
There might also be some things on the template that you can remove, for example, the delivery options section, if your business does not offer this. That is fine! Think of our template as your own form builder. If you deliver products to customers, you might find our free delivery note template helpful.
You'll also see that our template includes some wording which refers to your business' terms and conditions. You will need to add these to the template. Some standard terms that you might want to include could be details of your:
payment terms and refunds policy
contact details and service level standards
privacy policy and data protection procedures
delivery timescales and prices if applicable to the products/services that you offer
Once you have done this you are nearly good to go!
You can then have a think about extras, or 'nice to haves'. For example, you will see that we have included an optional section on the order form template asking the customer how they have heard about your business. If there is any other information that might help you grow your business why not add it to the form?
Distributing your order form
The final things that you should think about before using the template are how you will distribute your order form to your customers and how your customers will know about the products or services that you offer. After all, they will need to know what to order!
Maybe you will send it to customers with an email that details all of your latest product releases. Perhaps customers will pick the order form up from you in store, receive it with a free quote or you will distribute it at a craft fair or trade fair.
Whatever method, thinking about this will ensure that you are best placed to get the most out of your order form and make your initial time investment in creating the form more than worthwhile.
We hope that you find this custom order form template helpful. We mentioned free quotes just a moment a go. Did you know that we also offer free estimating software, as well as guidance on how to price your work? You can find more business administration tools and templates like this on our blog!