Powerful, Simple Invoicing
Zervant is free to start using today
Create Free Account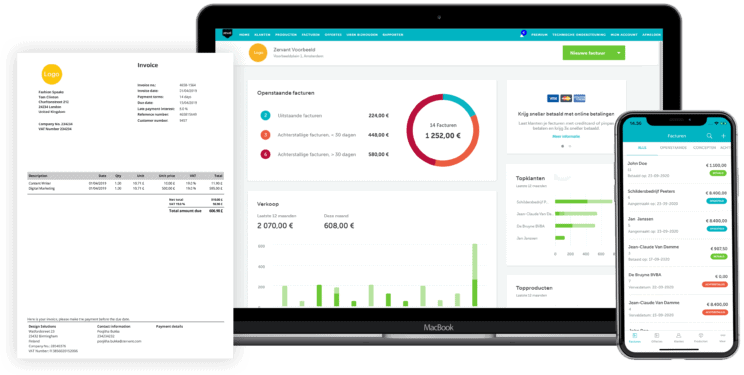 Terms & Conditions Template
Get your T&Cs right
Download free template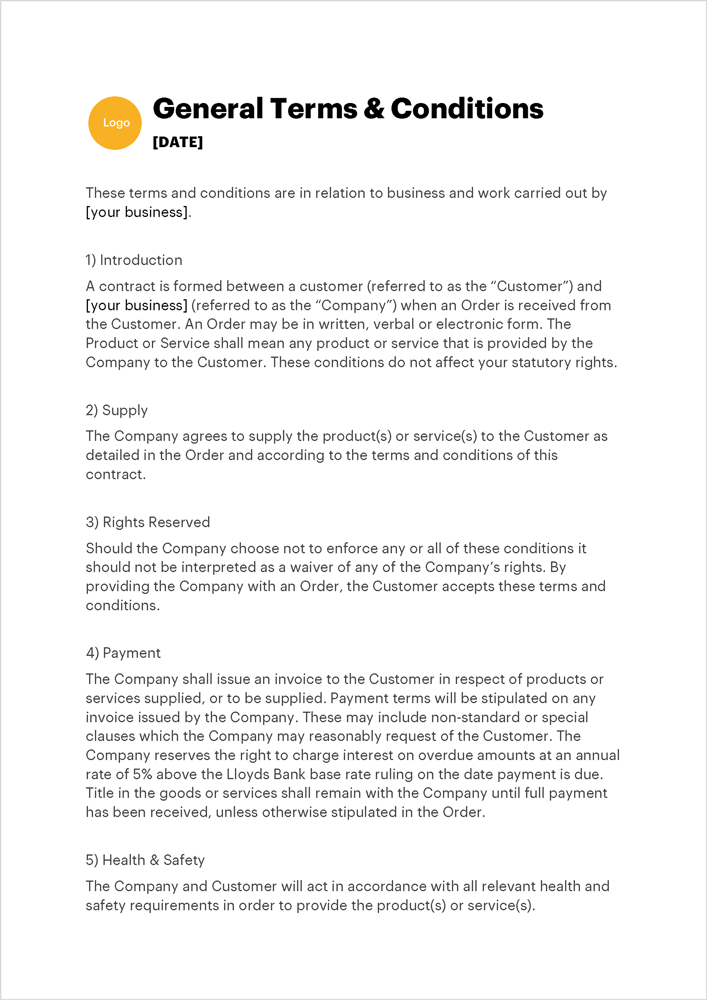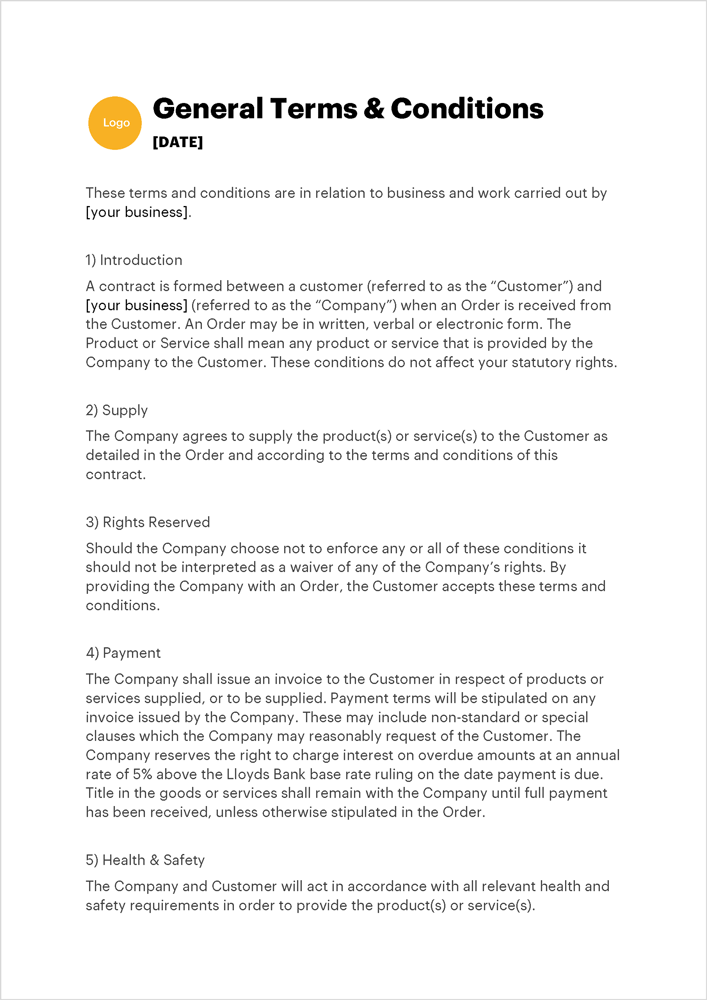 Free Business Terms & Conditions Template
Whether you're a small business who provides services or you're engaged in the sale of goods, every transaction is a contract between a Buyer and Seller. To make it clear to customers in the context of payments, we believe that it is essential to include terms and conditions (T&Cs) on all your invoices.
With Zervant, you can easily add T&Cs to your invoices and have them automatically displayed on a separate page.
In this article we offer a free contract template to download that will get you started, as well as explain all you need to know about these service agreements.
Instructions on how to create your terms of service are at the bottom of this page.
What are terms and conditions?
General terms and conditions are designed to protect you and your customers by using watertight and legally binding written agreements, as well as ensuring that you don't enter into unwanted agreements, explains Rocket Lawyer.
They add that T&Cs:
"…set out those arrangements, provisions, requirements, rules and specifications which occur in every transaction that a seller makes. Whether goods and services are sold on a standard basis or to specification, standard terms and conditions of sale (or supply) are a core part of most businesses."
These are different from website terms and conditions and are generally found at the foot of an invoice. Check out our guide on how to create an invoice to see more about the basic elements.
What do terms and conditions cover?
A standard T&Cs contract should cover anything that applies to all your transactions. It will consist of a description of the goods or services, the price and any other terms specific to the transaction.
According to Rocket Lawyer, T&Cs can include:
how a contract is formed
payment terms
how delivery will take place
your policy on returns and refunds
your position on defective goods or services
your liability
It is also important to include an address for customers to contact you, which could be the address where your business is registered or even a PO Box.
However, the rules are slightly different for a limited company. You can find out more about this from the Rocket Lawyer website. Depending on the type of business you have, you may benefit from our business planning template.
Different types of terms and conditions
Every business is different, so T&Cs must be tailored to who your customers are, what goods or services you are providing and by what platform you use to sell.
B2C transactions are more highly regulated than B2B, says Millie Johnson, Legal Expert at Rocket Lawyer, so read up on Consumer Protection Laws.
They can also include a limitation of liability clause that can help to protect the contractor in the event of a dispute over agreed-upon work, adds Markel.
Note: As with any legal documents, contact a lawyer if you are in doubt.
Terms of service template
To use this template, check all highlighted text and enter info specific to your business. You can then save it, export it to PDF and email it or print it off to give to your client after they make an order.
Terms & Conditions Template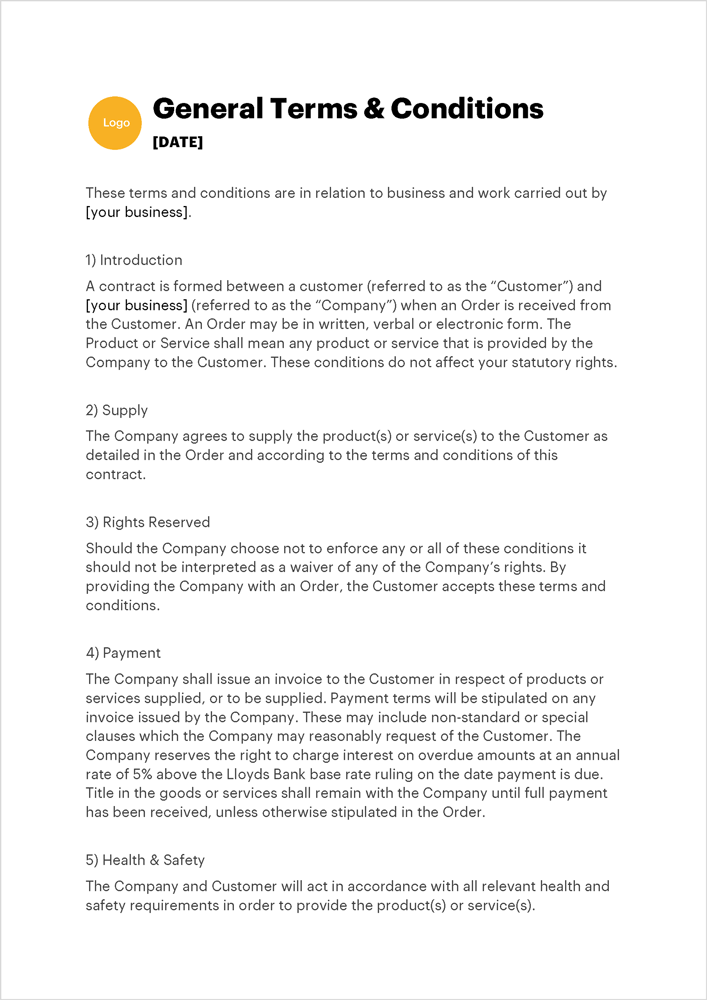 Manage your invoicing with Zervant
Download: Word
Whether you are selling online or face-to-face, we hope that our free template and guide have helped you. If you have any further questions, please get in touch and we can help you!
Zervant's invoicing software allows you to easily add T&Cs to invoices, so sign up today and start protecting yourself and your customers.
Are terms and conditions legally binding?
As to whether T&Cs are legally binding or are required by law, the short answer is no.
Simply having a digital T&Cs on your website or attached to your invoice is not proof that they have been seen by your client.
The UK Government website says that a terms and conditions contract does not need to be on paper and physically signed, but both parties must be aware of its existence in a demonstrable way, and not in dispute over the terms before an order is made.
According to advice from the Cash Protection Agency, "You should include them in a piece of direct communication, with a clear statement to the effect that they will be considered the binding terms unless the client raises an objection."
CPA also warn of the possibility of clients having their own T&Cs that may contradict yours and could take precedence without a specific agreement.
The UK Consumer Rights Act 2015 aims to protect consumers against unfair contract terms and notices. An unfair term is not legally binding on your customer and enforcers, such as the CMA and Trading Standards, can take action to stop you using it.