Invoicing Made Easy
Try Zervant and invoice 5 customers, completely free.
Create Free Account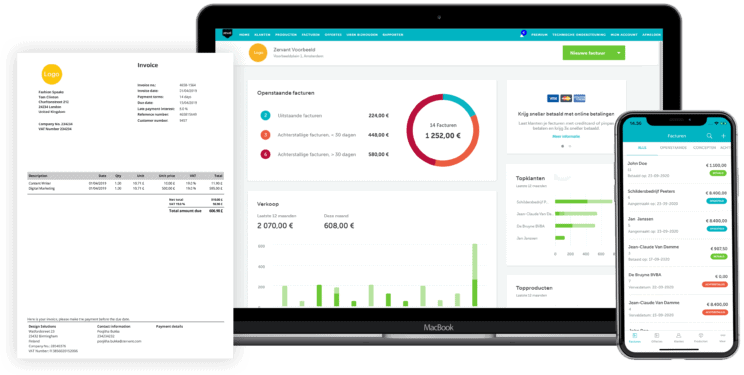 Purchase Order Template
Download this free template in Word or Excel below.
Download Template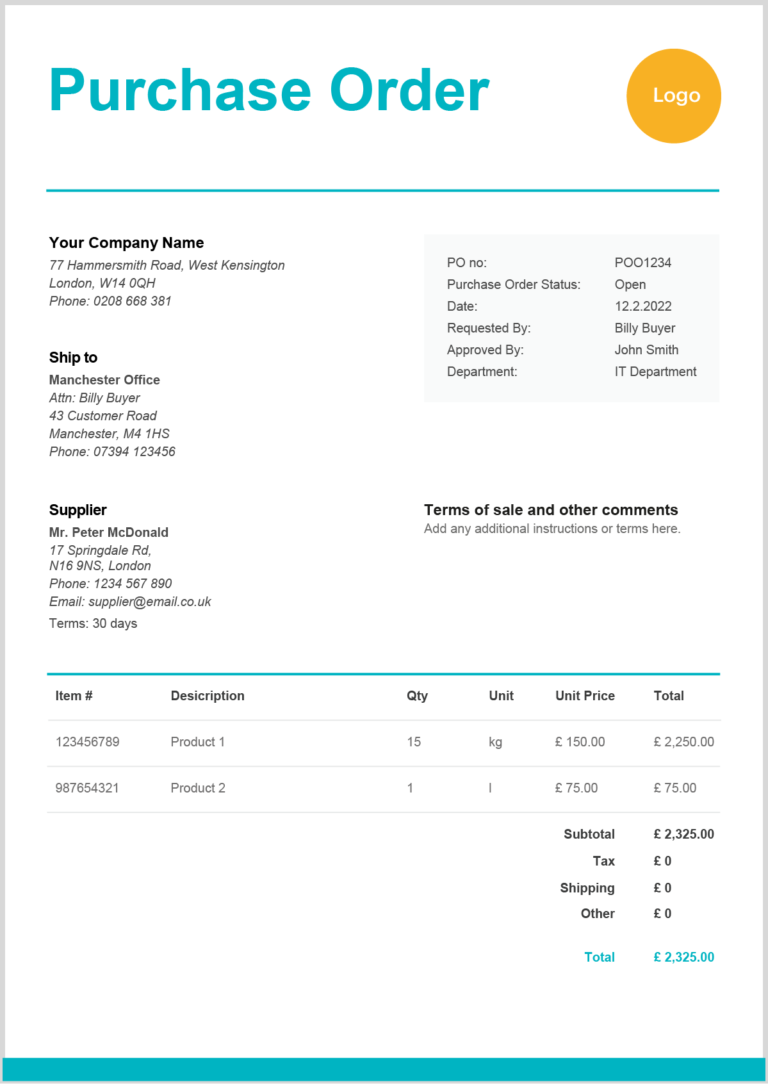 Purchase Order Form Template
Free purchase-order template for download in Microsoft Word & Excel. In this post, we explain what a purchase order is and how to fill and send one.
As your business grows, inventory management gets even tougher, and every seemingly unimportant bit of information that slips by you could lead to losses in the long run.
If you find yourself in this sticky situation, don't fret. You can curb those losses and regain control of your cash flow with a simple purchase order template!
Using a purchase order is a sure-fire way to showcase professionalism, prevent maverick spending, and help you work with a strategic focus rather than a 'worker bee' mindset.
What is a purchase order?
A purchase order is a document that helps businesses track and manage purchases. It's usually issued by a buyer to a seller, indicating the specifications, prices, quantity of products needed, payment terms, and delivery.
Once a seller accepts the purchase order, a legally binding contract is formed between buyer and seller. Basically, a purchase order ensures that both parties understand what is expected of each other. It also helps the supplier hedge against non-payment.
Purchase Order vs Invoice
Businesses use two critical documents to track sales & inventory—an invoice and a purchase order, to help with bank reconciliation and other accounting purposes.
Purchase Orders are often sent before invoices since they usually define the contract of sale (including the supplies or inventory involved). Like invoices, Purchase orders are also needed to process payments since they quickly reveal information regarding what goods have been ordered, shipped, and successfully delivered—but not yet invoiced.
An invoice (also known as 'statement', 'bill' or 'sales invoice'), on the other hand, is a document requesting payment made for successfully delivered goods or services.
Why use purchase orders?
Regardless of whatever business model you operate, if you're purchasing a product or service your company doesn't manufacture, you probably need a reliable PO template.
For instance, an online clothing company will need a purchase order to get textile, a startup will also need it to purchase website hosting, domain names, etc.
You may disregard having a PO template if you only make small-scale purchases. However, it's advisable to use this for all your B2B transactions; and rest assured of the legal security provided by this PO template.
The pros of having a purchase order system include:
Better inventory management (it helps prevent duplicate orders).
Clear communication between buyer and supplier.
Tracking and control of expenditure.
Facilitation of in-house financial audits.
Legal Security for both parties.
How are they used?
Buyers issue purchase orders right after signalling interest in a vendor's merchandise. If the supplier has the required items in stock, they'll accept the purchase order and deliver the products according to the stipulated delivery details.
Right after delivery, the vendor sends an invoice to the buyer. Payment of the bill and confirmation by the vendor signals closure of the purchase order.
Pro tip: Each business will have different needs, so it's essential to customise the purchase order template to fit your specific needs. Let's say your business frequently orders the same product from the same supplier. In that case, you may want to include the supplier's contact information and product description in the template so that you don't have to enter this information each time you place an order.
How to create a purchase order
A standard purchase order template contains information that aids accurate product delivery. These details include but are not limited to:
A Purchase Order Number,
Purchase Order Date,
Contact information,
Product needed,
Product descriptions (including brand name, size, SKU, etc.)
Quantity,
Price per unit/Unit Pricing
Surcharges (e.g., taxes, custom duties)
Discounts (if they apply)
Totals (cost and quantity of items)
Delivery date and address,
Payment terms,
Date(s) of payment and
Any other special instructions for the order
The PO number helps you track the order, while contact information is for correspondence between both parties.
When listing the products you need in a purchase order, add some descriptions so the vendor understands what specific item you need.
Your proposed payment plan should outline how you'd prefer to pay for your order. This could be in installments, or all at once, at a specified date.
Business gets better when you get rid of the boring manual stuff and just automate your Purchase Order system. We've made it easy to get started with a free, fillable template you can try out below.
Purchase Order Template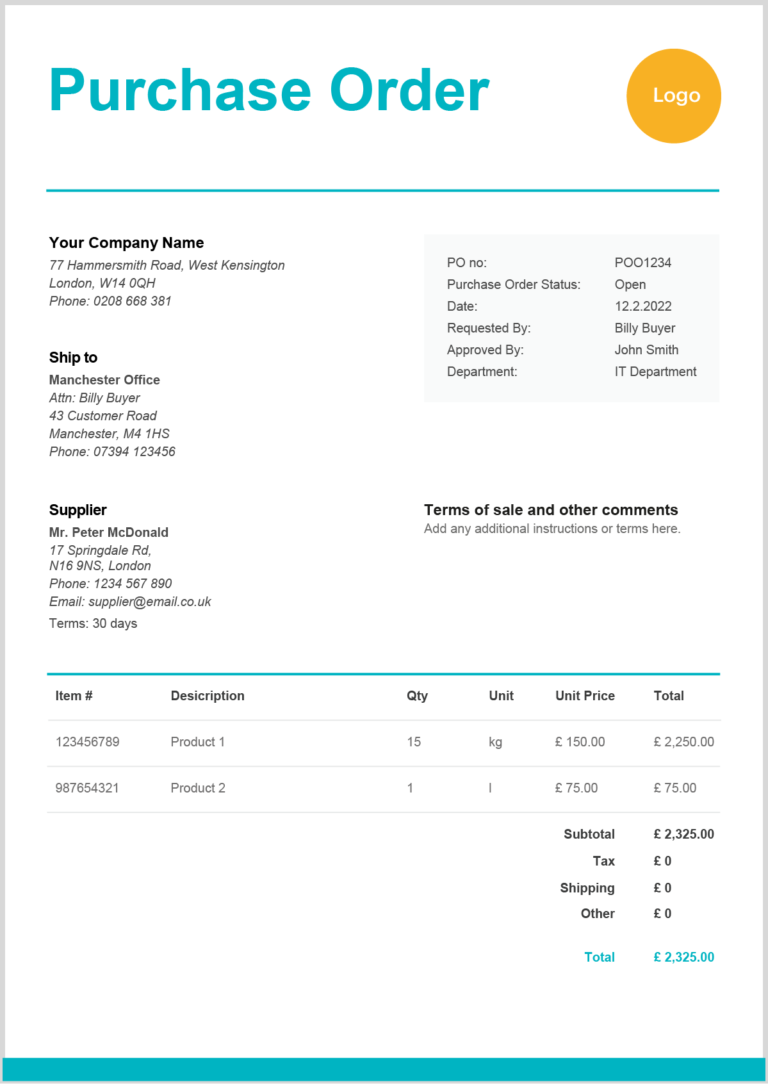 Create a free Zervant account and get access to powerful estimate and invoice management.
However, we get that many sales executives still want physical evidence, which is why paper purchase orders are still popular. The great thing about our template is that it's adaptable for cyber and paper use.
Important Things to Remember About Using Purchase Orders
— The Vendor is not obliged to accept your Purchase Order, and that's alright. Your purchase order only becomes legally binding when the vendor accepts the order and communicates acceptance to you (via email/phone call).
If not, they can choose to reject your PO for a number of reasons including unavailability of products or an ill-suited payment plan.
— It's a legally binding document. The purchase order insures the vendor against non-payment, so they have the right to take legal action against you if you default on payment.
— You're accountable for errors in the purchase order. The vendor uses your purchase order as a reference when filling your supply. So, if there's an error in delivery that matches your purchase order, you're responsible. Otherwise, the vendor can be held accountable.
Wrap-up
One hallmark of a successful business is the ability to do more with less. Having a purchase order system will save you a ton of resources for the long haul.
Our free purchase order form template is not only integrable with Microsoft Excel, but also contains all you need to communicate your offer clearly to any vendor. You, too, can join hundreds of savvy entrepreneurs to try out the purchase order template today.
Need inspo? Dig into the wealth of (free) resources on our blog that'll help you work smarter and at scale, while keeping an eye out for your long-term goals. Keep reading.