Which entrepreneur type are you? | Entrepreneurship in 2022
What type of entrepreneur are you? Obviously, you're a hardworking, ambitious, creative, confident and successful one, but we would like to know into which category your entrepreneurial business profile fits.
If you aren't certain, then read on because we know that you are a curious entrepreneur, too.
What are the different types of entrepreneurship?
Putting aside subcategories like type of ownership, business size, location and even gender, social scientists have narrowed down the number of common entrepreneur profiles to around 10. We say 'around' because entrepreneurial research websites can list anything from four to more than 25.
Helping entrepreneurs is at the heart of everything we do at Zervant, so we have undertaken the legwork and compiled the nine most common entrepreneur types that will guide you on your path to success.
Remember that it is possible for your entrepreneur type to straddle more than one profile and for it to change as you develop your skills and expand your business.
There's even the possibility you could one day win a Great British Entrepreneur Award but, of course, you're not in business for the acclaim of your peers.
The Small Business Entrepreneur
Small business entrepreneurs make up the majority of local ventures and typically provide a bespoke service to an individual or another firm. Hairdressers, restaurateurs and retail store owners, as well as creative professionals, consultants and service trades, are all part of this category.
While some business owners are cautious when developing into a franchise, like a Fabian entrepreneur, others are keenly focused on building and growing an enterprise. You want to earn more than a modest profit that can support your family—many of whom are usually employed by your enterprise.
Keep in mind that it is common to start as a small business entrepreneur and to move on to become an online entrepreneur.
Work-Life Balance for Entrepreneurs: Is Entrepreneurship Bad for your Health? See our Infographic for Answers!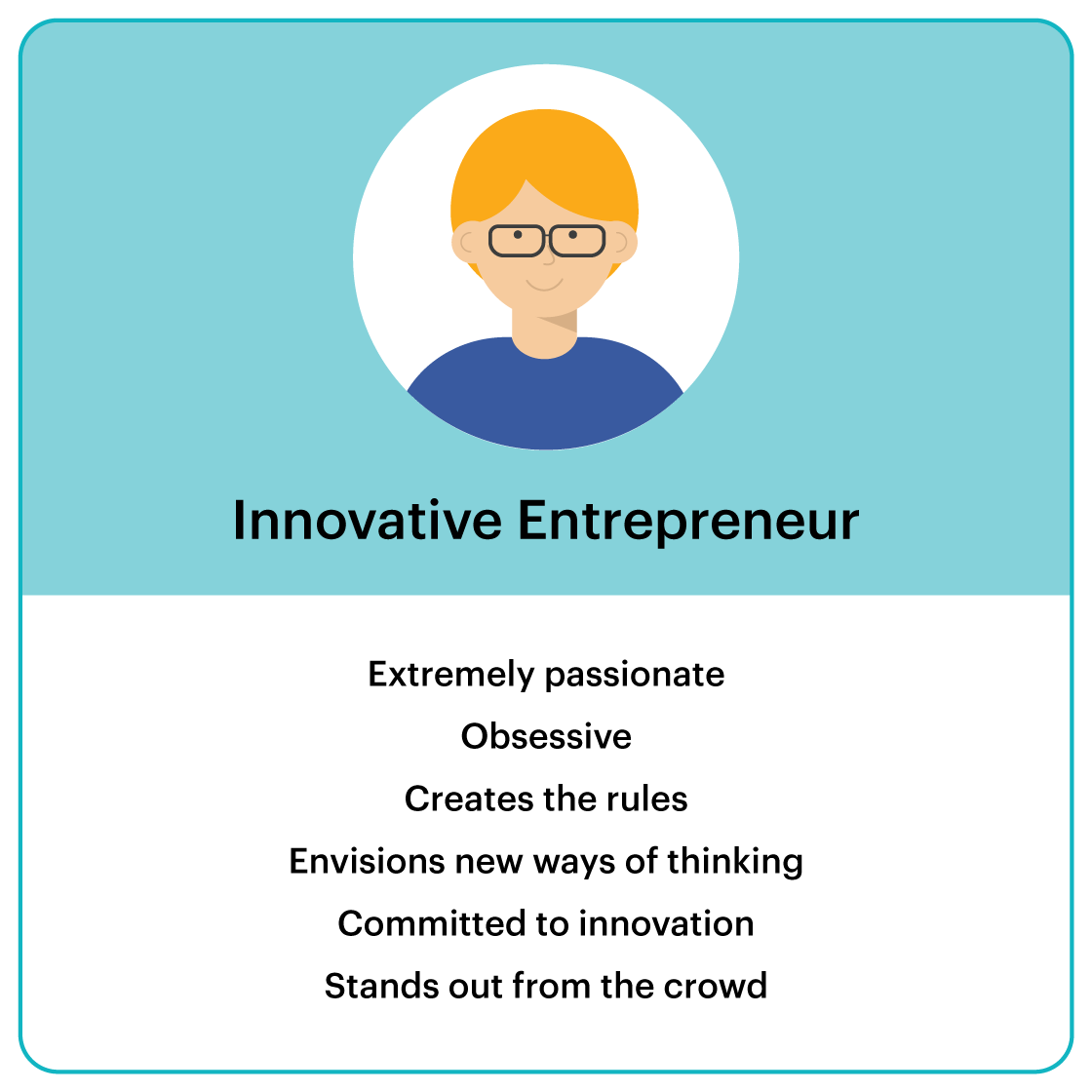 The Online Entrepreneur
Like the small business entrepreneur, the online entrepreneur provides or sells a particular service or product via a website or 3rd party online marketplace, such as eBay or Amazon.
An online business is a cost-efficient way to take your first entrepreneurial steps, especially if you are using the drop shipping business model and don't stock any inventory—plus nobody can ever sack you.
With the popularity of online learning platforms, especially e-learning, on the rise, the number of online entrepreneurs looks set to increase over the next few years.
Entrepreneurship is easier than before with flexible cashflow funding: invoice financing for entrepreneurs.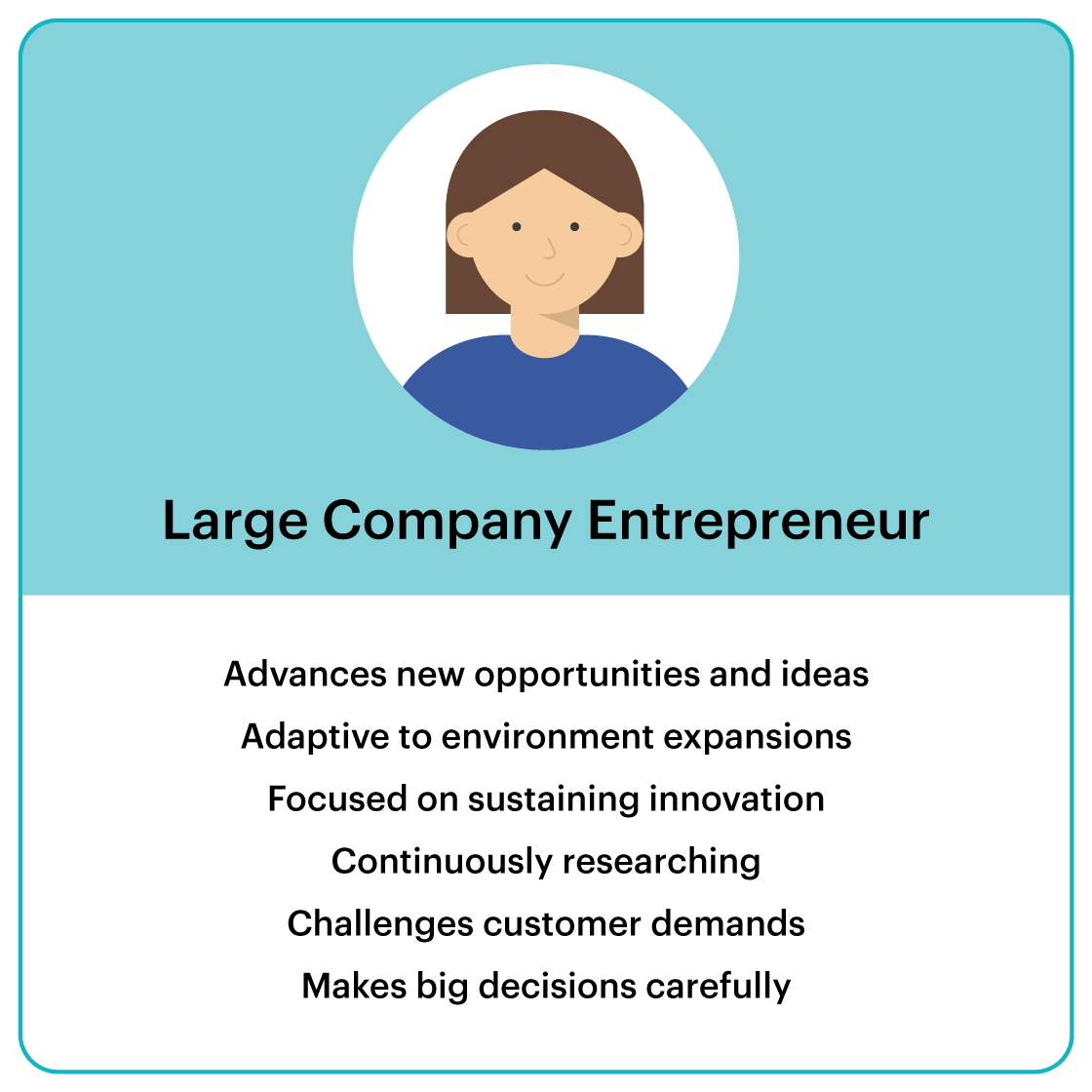 The Large Company Entrepreneur
The large company entrepreneur often works within the context of a large company and innovates new product lines and services to meet market demand, as well as to broaden the firm's customer base.
While it is often the creation of a new business entity within an existing large company, small business entrepreneurships can quickly grow in scale. This can result in you seeing your R&D acquired by a larger firm, for example.
Disney, Apple, Google and Microsoft are prime examples of this type of entrepreneurship.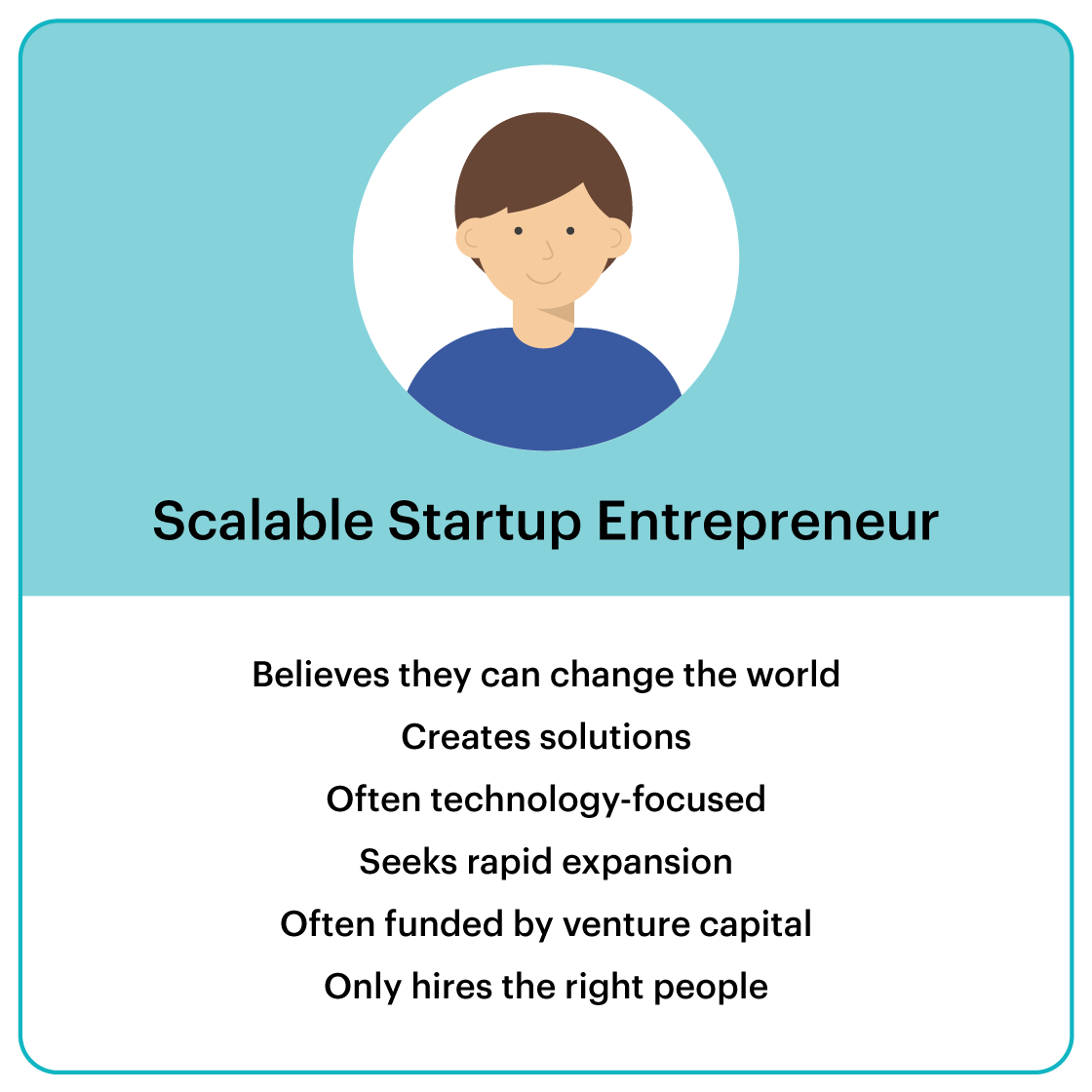 The Scalable Startup Entrepreneur
The scalable startup entrepreneur is different to most small business entrepreneurs in that you have a long-term vision for growth from the start.
You often seek funding from venture capitalists, are commonly associated with technology and Silicon Valley, and tend to attract a lot of media attention with the innovative solutions you are offering the market.
You aren't singularly focused on making a big profit but are also looking to fuel a rapid expansion by generating revenue that can be invested back into the business.
Is entrepreneurship like a bed of roses? Startup founders tell us what they think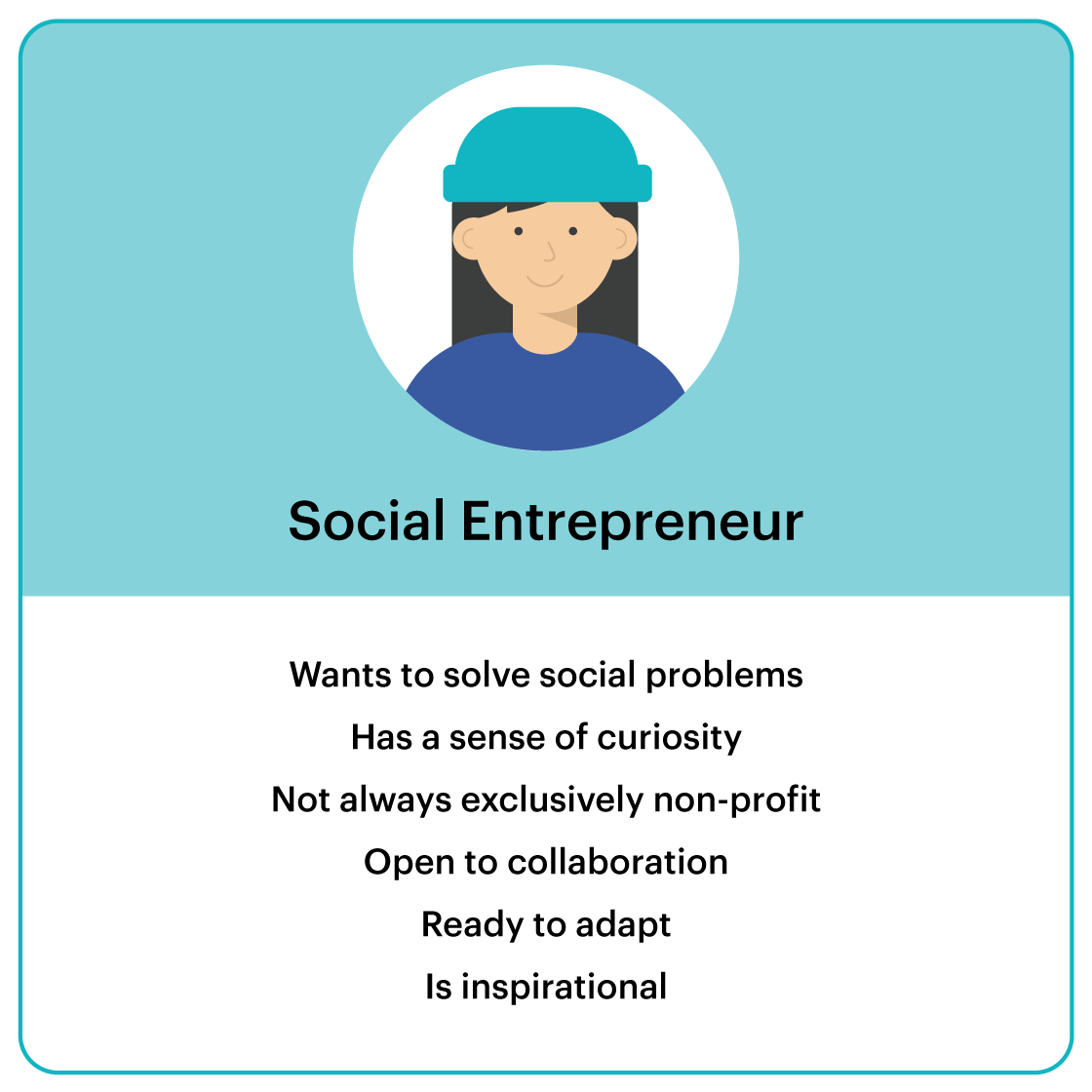 The Social Entrepreneur
The social entrepreneur is at the front line for the protection of socio-economic wellbeing, according to the World Economic Forum.
You are usually more focused on solving social problems, such as environmental sustainability, healthy living, equality and community improvement, with your innovative product or initiative than profitability. Additionally, it usually means that your social entrepreneurship takes the form of a non-profit structure.
However, like the large company entrepreneur, there are social entrepreneurs working inside large companies who are instigating change from within.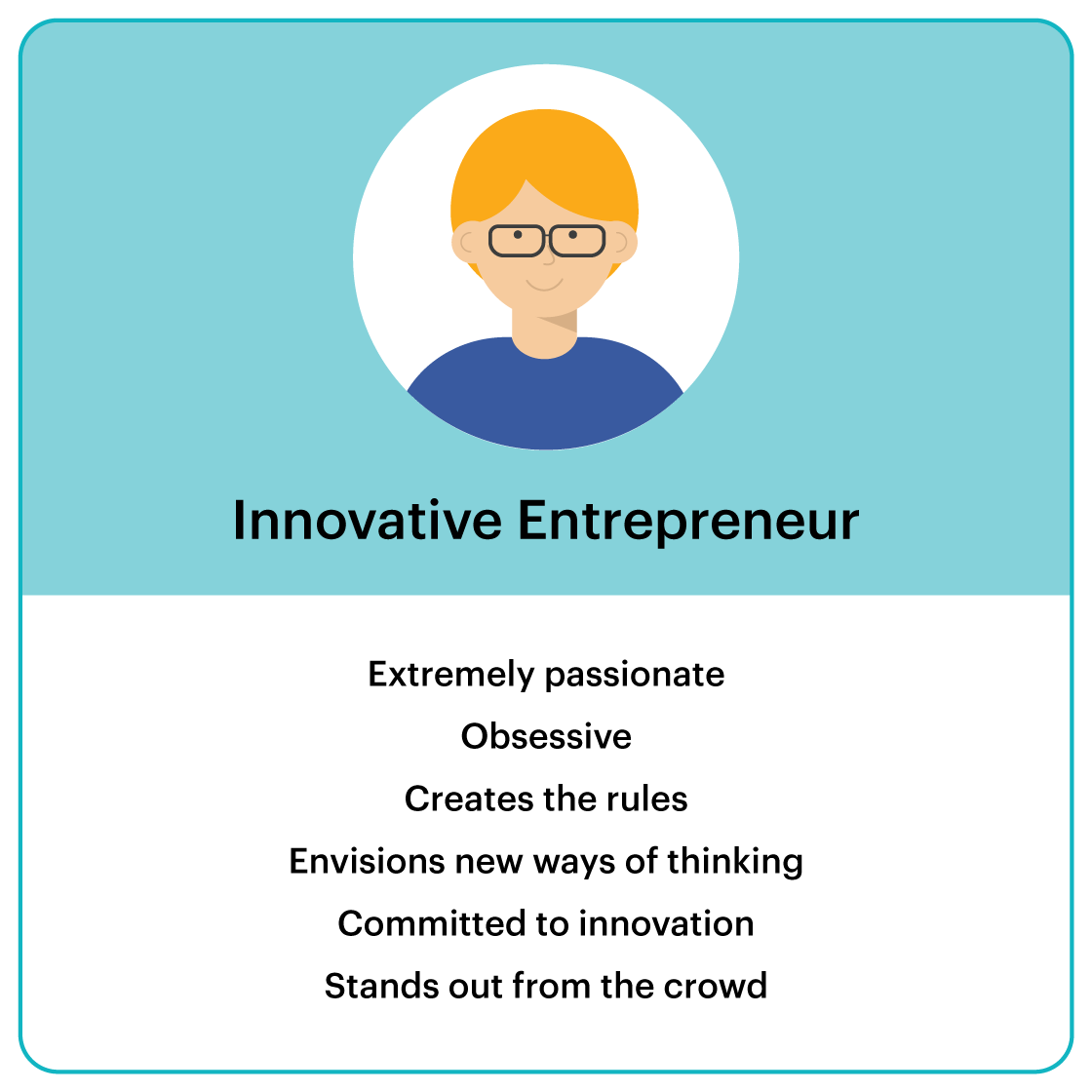 The Innovative Entrepreneur
The innovative entrepreneur embodies the spirit of Steve Jobs and simply must innovate.
You could be working for a large company or looking to instigate social change, but you are determined to bring new technologies, processes or knowledge to life.
In the words of one UK entrepreneur, "Being innovative means to be […] always asking the question of what is next, what can we do better, what can we do differently and not just for the sake of doing it differently but to create more value than it's currently created."
For every innovative entrepreneur, there is also an imitator entrepreneur. Using others' ideas as inspiration, you learn from mistakes and improve the product or service. An imitator entrepreneur is often a combination of an innovator and a hustler.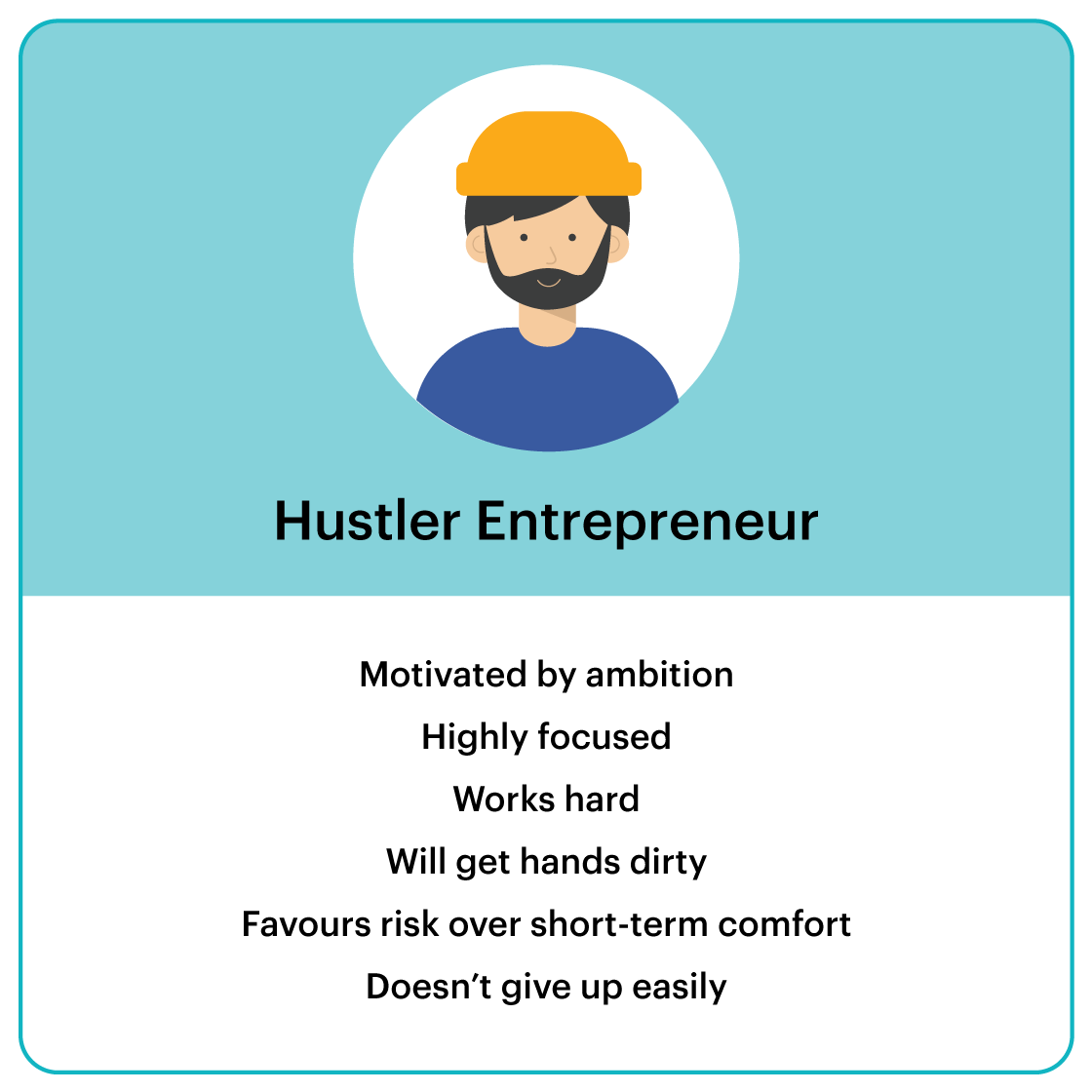 The Hustler Entrepreneur
As Entrepreneur.com notes, many of us associate the term "hustler" with something negative.
However, the hustler entrepreneur is somebody who is confident they will succeed and enthusiastically puts in the effort needed to grow a business with hard work rather than capital.
You do not give up easily and nobody is going to stand in your way.
In fact, your unbridled optimism is akin to that of TV icon Derek "Del Boy" Trotter, the epitome of the hustler entrepreneur, who confidently used to declare, "This time next year, we'll be millionaires!"
Experienced Entrepreneurs Give Their Tips How to Control Chaos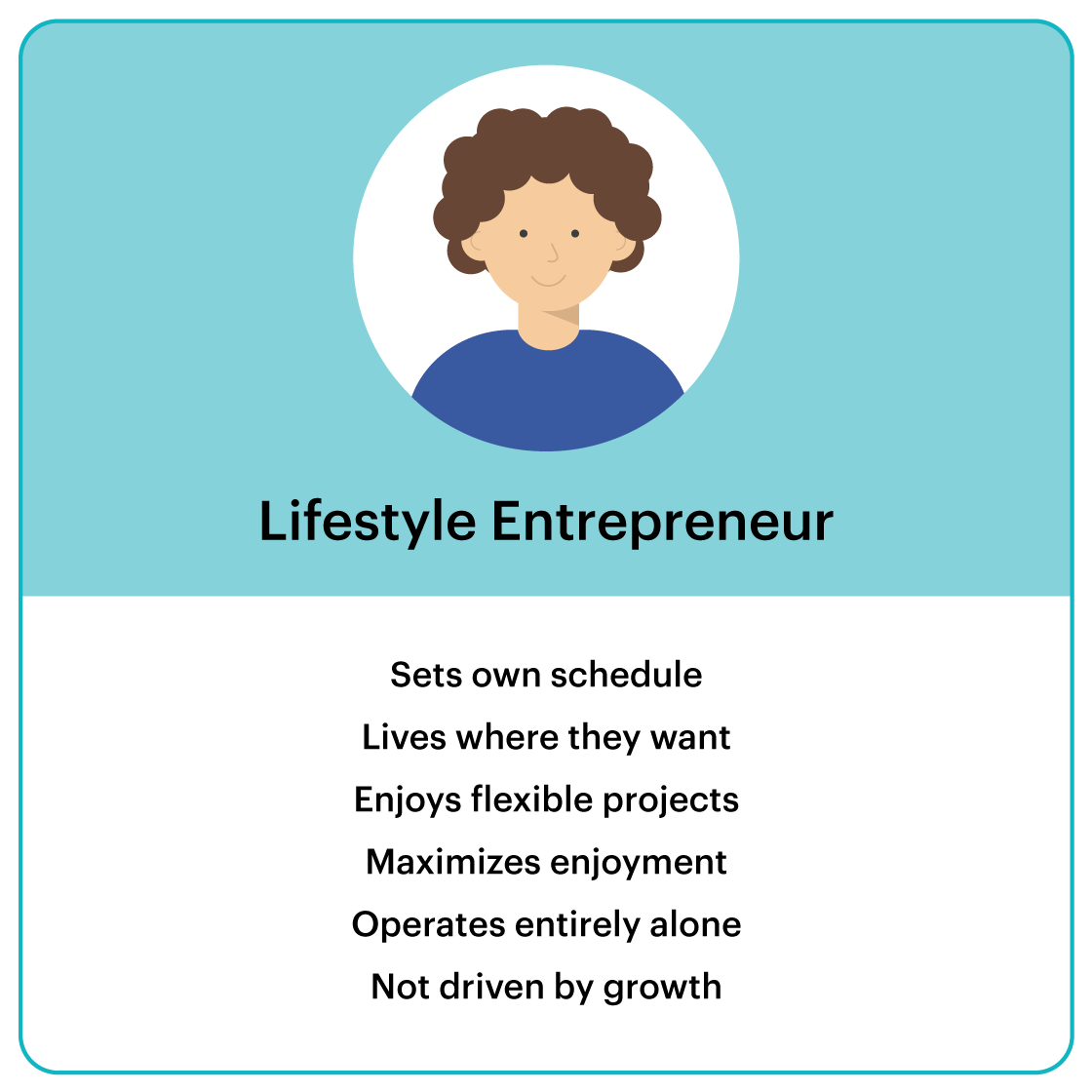 The Lifestyle Entrepreneur
Known as both digital nomads and solopreneurs, the lifestyle entrepreneur is different to an online entrepreneur. The Balance Small Business website says that it all starts with deciding what life you want to lead and then building a career around it.
Whether you are freelancing, blogging, running online courses or engaged in e-commerce, flexibility is your goal. You only want to work a set number of hours that earns enough money to support your hobby, interest or goal, meaning that you are not particularly focused on growth.
Thanks to an increasingly online world with cloud computing, laptops and smartphones, the lifestyle entrepreneur can now easily run their business from almost anywhere around the world.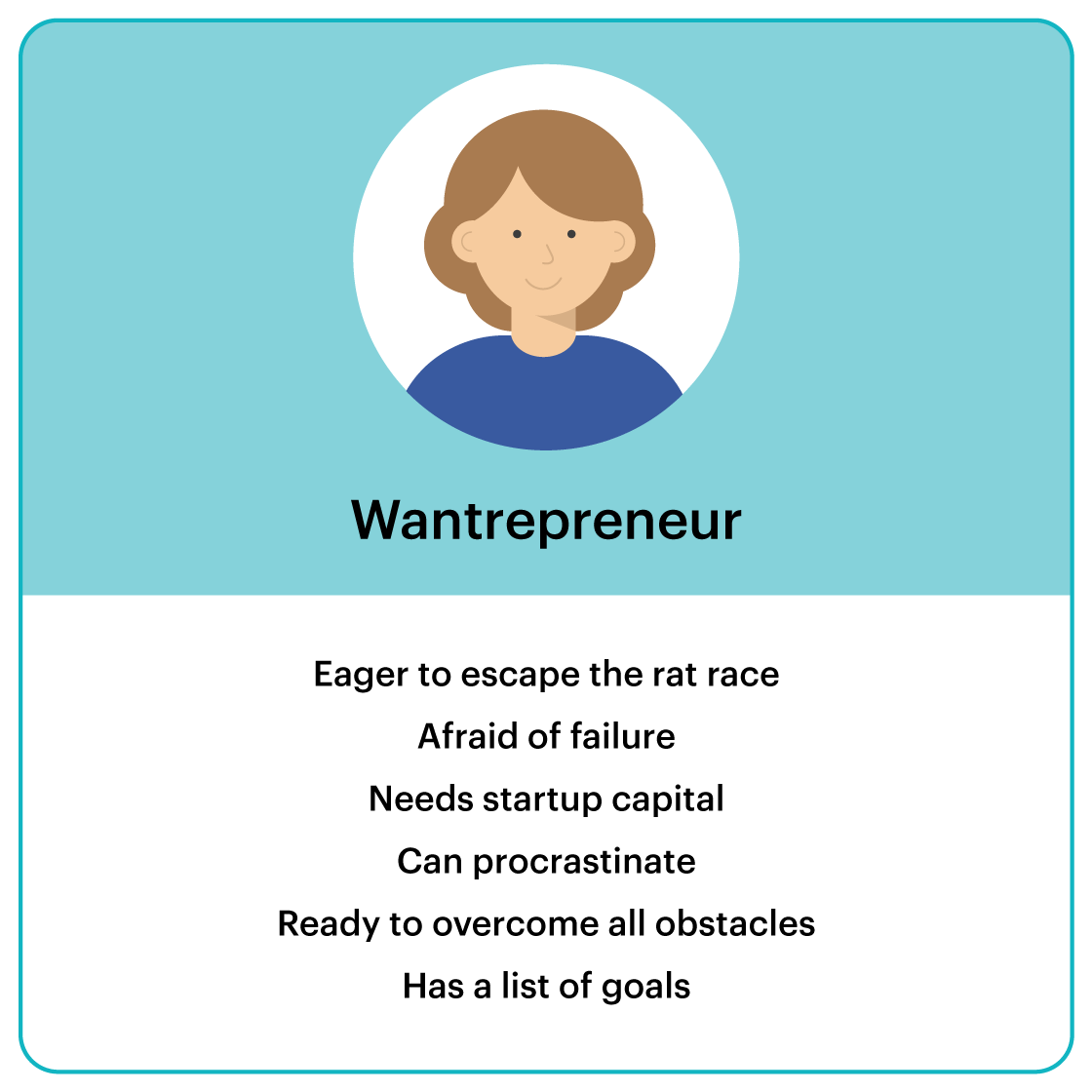 The Wantrepreneur
If you have yet to realise your ambition of becoming an entrepreneur, then you fall into the appropriately named category of wantrepreneur.
According to a survey by SME Loans last year, almost two-thirds of the UK workforce wants to become an entrepreneur one day, with a massive 83% of 18-24 year olds dreaming of self-employment.
Perhaps you don't know where to focus or lack either the capital or motivation to get your idea off the ground, but there's no need to feel too disheartened because at some point every entrepreneur has been in the same position.
As The Investors Book website reminds us, a wantrepreneur can become an entrepreneur only if they change their attitude and develop a practical approach toward their aspirations.
Take on this advice and you could then be on your way to joining successful entrepreneurs like Bill Gates, Mark Zuckerberg and Sir Richard Branson.
Take the first step to becoming an entrepreneur: download our free Business Plan template
How Zervant helps entrepreneurs
Zervant caters to every type of entrepreneurial business and profile type, as well as offering support to those wantrepreneurs ready to take the leap.
Working for yourself should be as easy as working for someone else, which is why you should sign up to Zervant's invoicing software and make those mundane bureaucratic tasks easier for yourself.
There are many different types of entrepreneur but there are some fundamentals that will make you stand out: one of them is the "work smarter, not harder" types who use Zervant and get paid faster.
For information about our software, please get in touch and we can help you – whatever your entrepreneurial profile!