Powerful, Simple Invoicing Software
Zervant is free to start using today
Create Free Account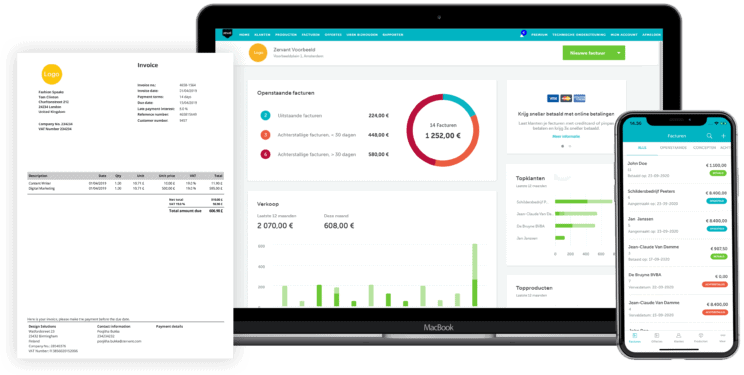 Late Payment Letter Template
Fed up not being paid on time?
Download Free Template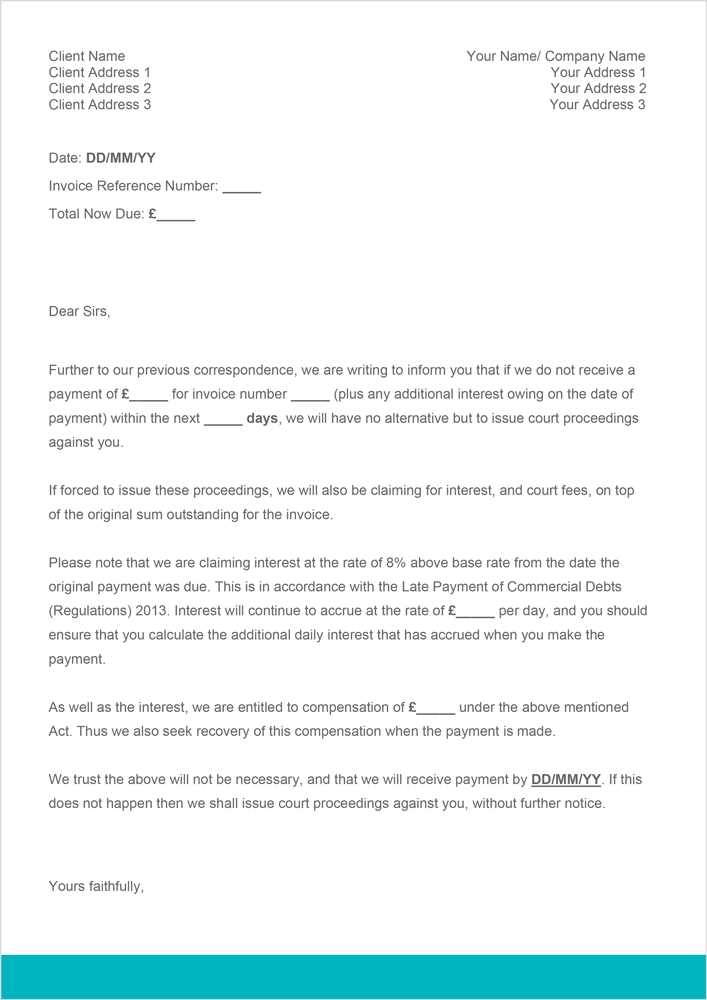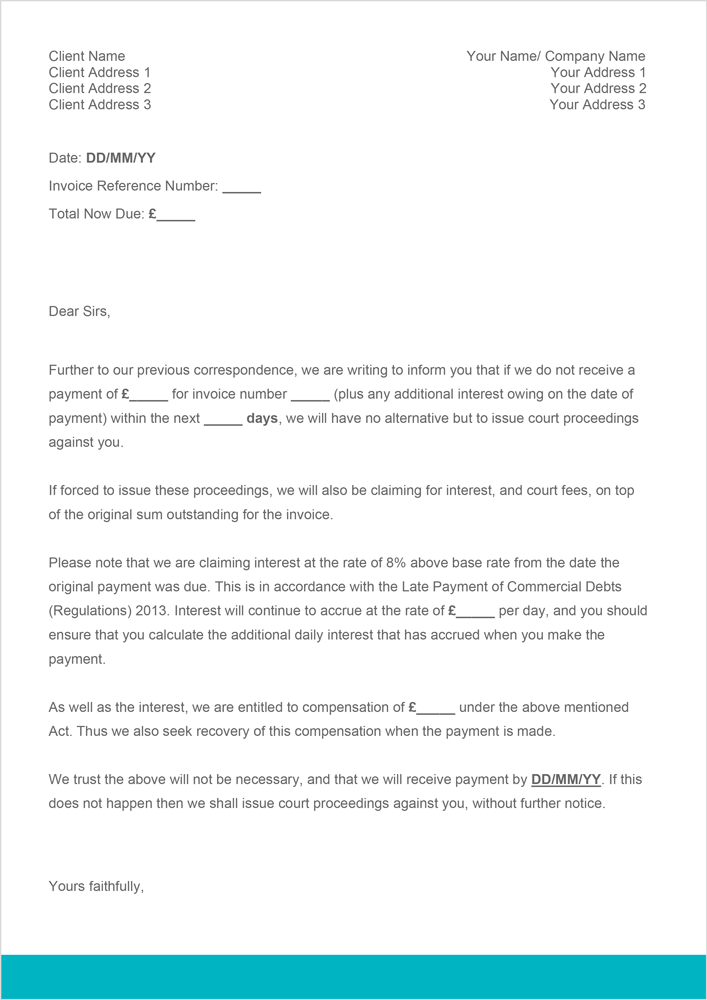 Late Payment Letter Templates
Late payment letter template, also known as a letter before action. Just click on the download link below to access it. This letter is, of course, a last resort when tackling late payment so we've also included the other actions you can take before sending it out.
3 Step Guide to Sending Late Payment Letters
So when should you send out your late payment letter? How stern can you be? And, most importantly, will it actually ensure you get paid?
Step 1.
It's best practice to start sending reminders before a payment is due. It's not rude or pushy, it just shows you're organised and that you expect prompt payment. Zervant's free online invoicing software can take care of this part.
If the deadline comes and goes, don't panic. Whilst this is annoying, you've still got plenty of options. If you need a little reassurance check what the law says about late payment.
Step 2.
Time for a polite reminder. This is, after all, a customer. You don't want to harm your chances of future business with anything too fiery. But it also needs to be clear you want – and indeed expect – prompt payment.
Something along the following lines should get the message across. It's somewhere in-between an invoice reminder and the final letter you send. You can send it in the post, via email, or both.
"Dear Sirs,
The amount outlined above was due for payment on (DATE). As of today's date no payment has been received.
If there are any extenuating circumstances, please contact us immediately and we will look into the matter further.
Otherwise we look forward to receiving your payment by (DATE) at the very latest.
Regards,
(YOUR NAME)
Make sure you include today's date, your contact details, the invoice reference number, and the amount that needs paying. And tailor the tone of message, depending on the type of customer you're writing to.
Step 3.
If you still don't get a response, then it's time for something a little stronger. Use the same wording as above, and include all the relevant information. Mention that the payment is now "considerably overdue", and that if the matter is not resolved soon you will need to apply late payment charges.
(You can actually apply late interest from the day the payment is late. But in the interest of customer relations it's best to hold off doing this until you feel it's absolutely necessary.)
Late Payment Letter Template Download
If your two letters and the payment reminders sent with Zervant's free online invoicing software don't get that invoice paid, it's time for your third and final letter (which is also known as a letter before action). Click on the link to download it.
Late Payment Letter Template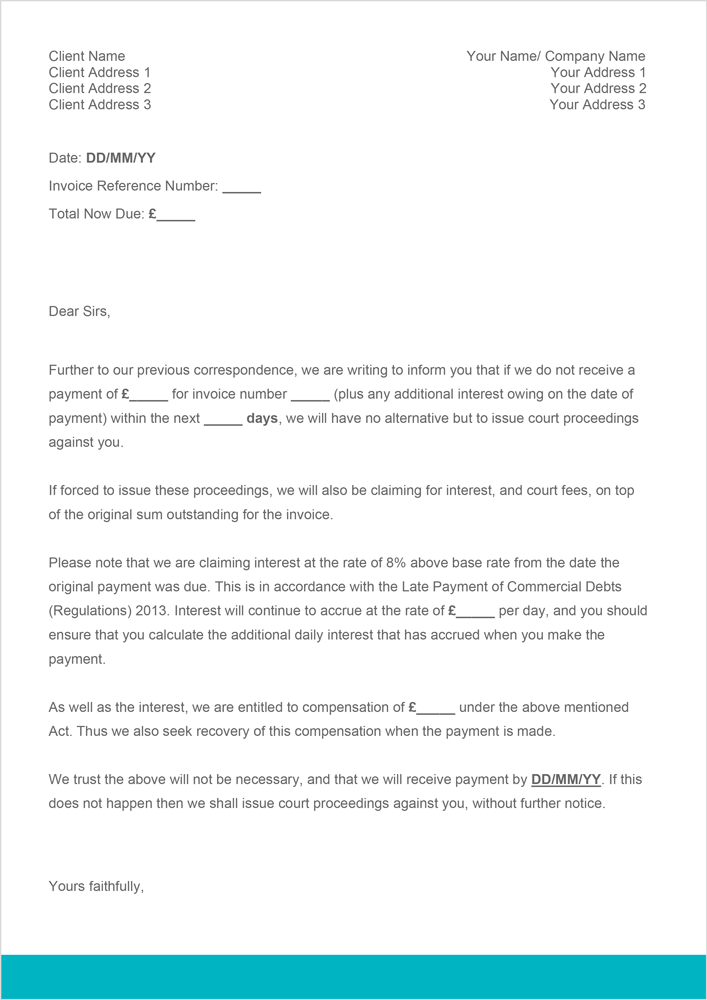 Send payment reminders with Zervant
Download: Word
Here's a quick explainer of the terms used in the letter (for reference):
The "interest rate of 8%" is the statutory interest that you are able to charge by law.
The "base rate" is a figure set by the Bank of England, for business to business transactions.
Thus the phrase "we are claiming interest at the rate of 8% above base rate" means you are claiming interest at 8.5%. (Read more about how to calculate late payment interest).
The "Late Payment and Commercial Debts (Regulations) 2013" is, according to the Department for Business, Innovation and Skills, "late payment legislation to help promote the culture of prompt payment".
According to this legislation you can claim compensation for late payment as follows:
All you need to do now is fill in the blanks and send it (do it by recorded post if you want things to be 100% watertight). If this doesn't get your invoice paid then it's time to seek professional legal advice.
Disclaimer: Our posts are designed to be informative rather than absolute reference points. Although we make every effort to ensure that the information we've included here is accurate, please be sure to seek professional legal advice before taking any action on late payment. If you feel our letter is inaccurate or incorrect please let us know and we will correct it.
Why Not Invoice the Easy Way?