Invoices, estimates and financial reports made easy
Get paid faster when you invoice with Zervant.
Create Free Account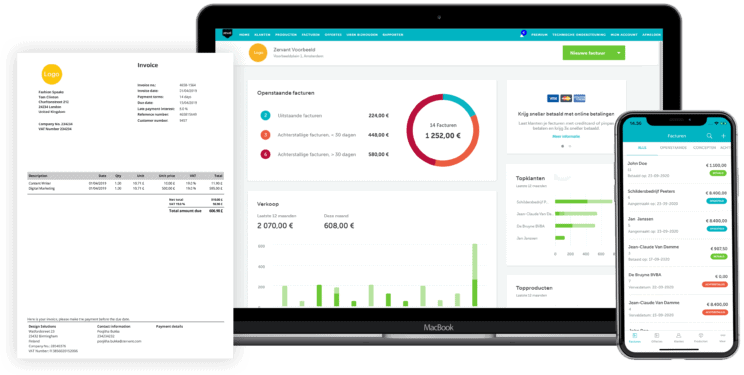 Landlord inventory template
Download this template below
Download in Word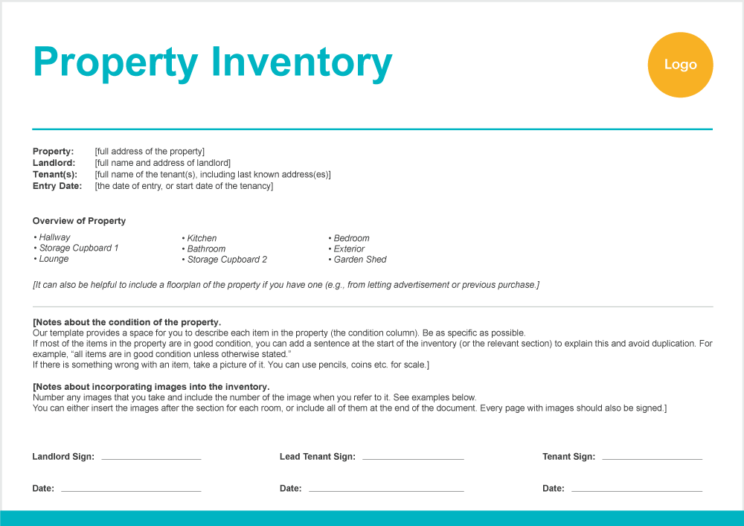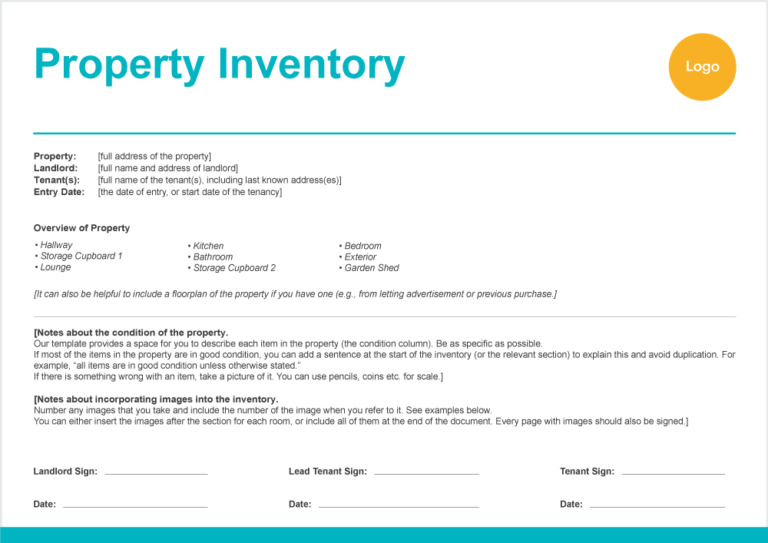 Landlord Inventory Template
Let's set the scene. Business is going well (perhaps due to the business automation that you've recently introduced). You decided to invest in property with the goal of diversifying your income stream. You've found a property, bought it and decided to manage it yourself. You've also found a tenant that you like, signed a tenancy agreement and you'll soon be handing over the keys.
Now you need to decide whether to use a property inventory. We know how cumbersome they can be to prepare and complete, but there are also many great benefits to having one! To help you out, we have created a free downloadable landlord inventory template that will let you achieve these benefits and free up your time to focus on what matters.
What a property inventory is
Exactly what it says on the tin, a property inventory gives an overview of the let-property contents and condition. Throughout this article we use multiple terms to refer to the same document: "property inventory", "landlord inventory", "rental property inventory".

It's used by landlords to describe the contents of their property clearly and accurately so that both landlord and tenant are on the same page should challenges arise in future. Where an item or general fixture is the property of the landlord, the inventory documents its condition at the time that the property is handed over to a tenant(s).
Why you should use a property inventory
No (but this is changing in Wales soon). An inventory is referred to in the model tenancy agreements produced by the governments across the UK for the private landlord sector though (see Scotland, England, Wales and Northern Ireland), and if you use these agreements you will need to create one.
Many industry bodies also recommend that you use an inventory and we agree!
Why? Firstly, it can help with the management of your property, as your tenant(s) will know exactly what they are going to get before they move in.
Secondly, it's in your interest to do so! The inventory can act as a protective, preventative measure and be used to evidence any deductions that you might need to make from your tenant's deposit at the end of the tenancy if, in the worst case scenario(!), your tenant(s) remove items from your property or damage it.
What should be included in a property inventory
Everything that is in the property. This will depend on the type of let property that you have. Our landlord's inventory template covers residential property only. Commercial property inventories will be slightly different.
The main residential property let types are furnished or unfurnished properties. We'll look at this difference in more detail now and then cover some of the items that are commonly forgotten, as well as things that are nice to include.
Furnished v unfurnished – do I really need to use an inventory for an unfurnished property?
An unfurnished property is one that is let without any furnishings included.
What are furnishings? Furnishings are things like furniture and kitchenware. They are items that you can move around with relative ease. Examples include:
sofas and chairs;
beds and chests of drawers;
appliances; and
basic cooking equipment.
That's not to say that an unfurnished property is completely bare. Anything that is fixed to the building of the property, including carpets, radiators, kitchen cabinets and bathroom fittings (such as toilets and sinks) are typically not regarded as furnishings by the letting industry. These items ought to be included in all types of properties and in an inventory for an unfurnished property.
You don't need to use an inventory for an unfurnished property (unless you are in Wales), but it can be helpful to have one, as it will help you document the condition of the interior of the property and all of its fixtures and fittings.
Forget-me-nots and nice-to-haves!
It can be easy to forget to include items which seem like part of the furniture (ha ha!), or that are stored away out of sight and out of mind. Things to be aware of include items on the walls (for example, mirrors, clocks, artwork etc.), in cupboards, garages, gardens or communal areas (for example, bins).
A property inventory is also a good place to document that you have complied with other obligations that you have as a landlord, or even to keep a record of other things relevant to the property.

For example, it can include:
the presence and type of fire/ carbon monoxide alarms;
copies of gas /electrical certificates;
instruction manuals for appliances /central heating systems;
meter readings as at the entry date; and
details of key codes and number of key sets.
If you do not include these with the inventory, be sure to document the provision of these somehow (especially any gas/ electrical certificates or any other compliance requirements). You might find our formal letter template helpful in connection with this!
How to use the landlord inventory template
Download our free landlord inventory template pdf and get started with its inbuilt explanatory notes. Our template lists the items in the property by room, and has plenty of space for you to add a description of each item and comment on its condition.
Once you've had a look at the template and you're ready to complete your inventory, take it with you around the property. Walk from room to room. Note down every item in each room, starting with the ceiling down to the floor. This will ensure that you don't miss any of those commonly forgotten items! Systematically check each drawer, cupboard, nook and cranny.
When you are describing the items in the property, think detail detail detail! Although it can be a bit burdensome, the time that you spend now will help you in the future!
Take photographs!
You might also want to take photographs of existing wear and tear or valuable items in the property to avoid any chance of your descriptions being misconstrued. Our template explains how to incorporate these photographs into the inventory and gives you tips on how to take the best snaps!
Check your tenancy agreement.
We have provided some suggestions on what to do with your property once you have completed it in the next section. Before you use these, you should check your tenancy agreement to see whether it says anything about your inventory.

For example, it could provide for some extra wording to be included, or it might require a copy of the inventory to be attached to the agreement. These provisions should always take priority over our template!
Rental property inventory template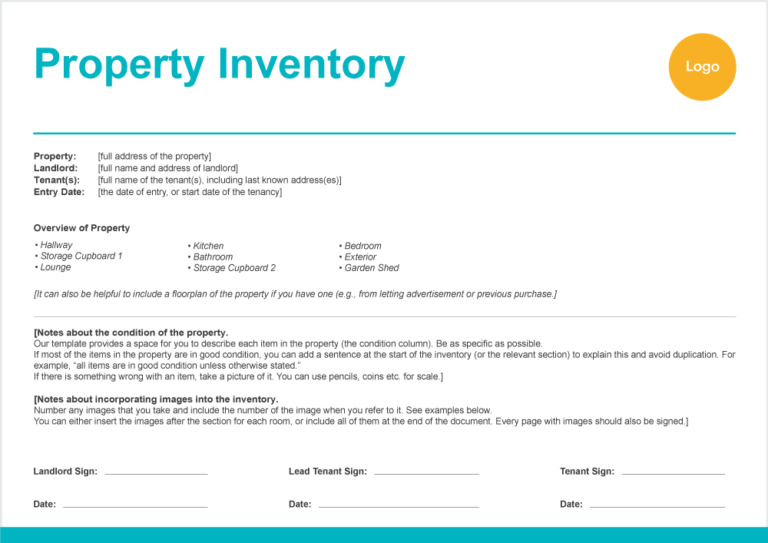 Create a free Zervant account and manage your business finances with ease.
Download: Word
How to use the property inventory
Once you have prepared your inventory, give it to your tenant(s) before or on the day that they move in.
Ask your tenant(s) to check it and provide you with any comments or amendments. You and your tenant(s) should sign and date each page of the inventory when you are happy with it. We have provided spaces for this in our landlord inventory template word document.
You might like to sign more than one copy of the inventory so that you and your tenant(s) can have a copy each to keep. Store the property inventory in a safe place in case you need to refer back to it and use it as evidence at the end of the tenancy.
Round Up
Our landlord inventory template will help you manage your rental property by ensuring that you and your tenant(s) are on the same page about what is and is not included with the property, and consequently, about what you expect to be returned to you at the end of their tenancy.
Zervant are an international company who like to help entrepreneurs succeed and get things done more efficiently. Our primary goal is to make running a small business as simple as possible. We offer an invoicing software solution to our customers as well as free invoice templates.
Other helpful resources for landlords in the UK:
The content and template contained on this website are for marketing and general information purposes only and should not be used by any party as a substitute for specific advice of any nature relevant to particular circumstances.
FAQs
Can I create my own inventory as a landlord?
Yes! There is no set formula or structure to follow. Using our inventory form template for landlords will save you time though so why not start with it?!
Can a landlord charge tenants a fee for the inventory?
No. Landlords cannot charge tenants for the inventory or for any costs related to its preparation.