Invoicing Made Easy
Try Zervant and invoice 5 customers, completely free.
Create Free Account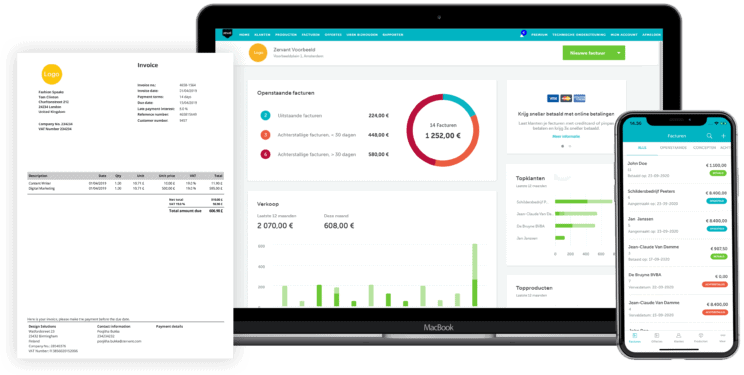 Job Advertisement Template
Download this template in MS Word below.
Download Template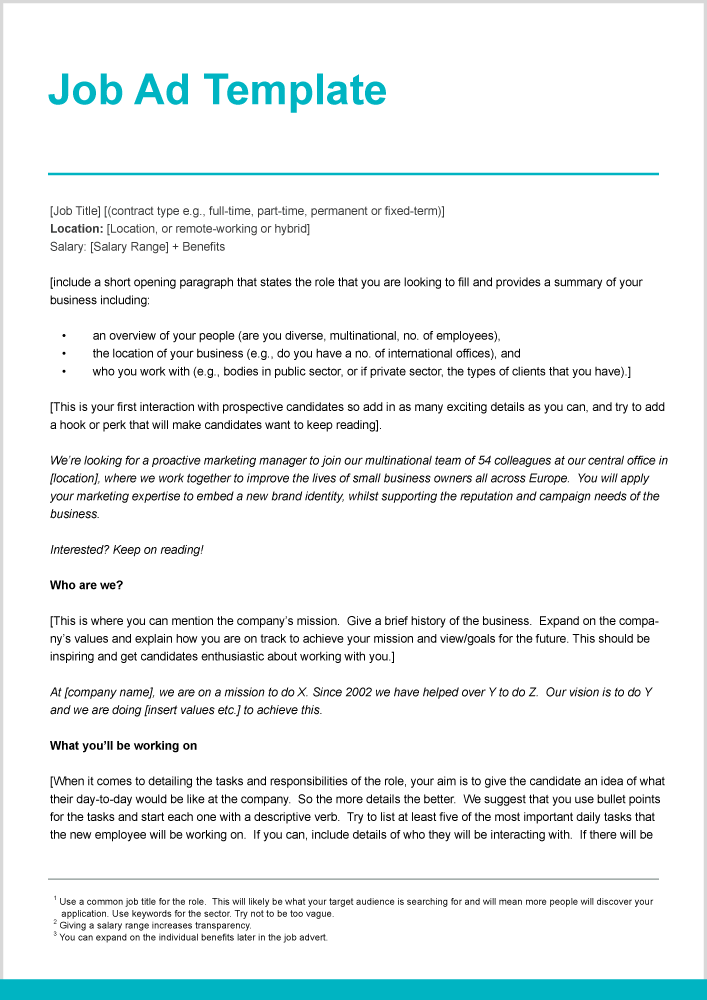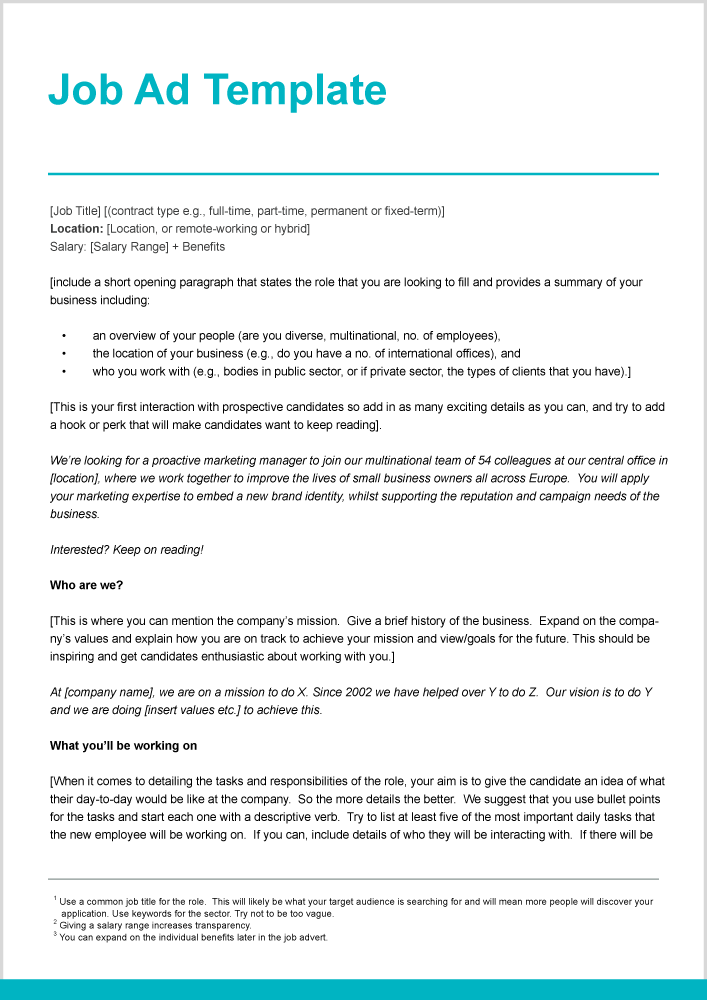 Job Advertisement Template
Writing a good job advert that will attract the best candidates for your team can take time and effort. That's why we have prepared a job advertisement template for you, with the aim of making your recruitment process that little bit easier. It is based on our very own job advertising template, and we have put together some effective writing tips to help you get the most out of it. Keep reading to find out more!
Why is a good job advertisement important?
According to the latest Global Talent Trends Report from LinkedIn, "job seekers have become choosier, viewing nearly twice as many job posts before applying in 2021 than they did in 2019." This may in part be caused by an increasing number of job vacancies (at least in the UK), but it could also be because employees' priorities are changing. The Global Talent Trends Report notes that workers are changing jobs because they are "hoping for something more – more purpose, more flexibility, more empathy."
Whatever the reason, this choosiness emphasises the importance of a great job advert that stands out in a competitive market, catches the attention of top talent and, most importantly, makes them want to work for you!
Getting started
There are a few things that we recommend you do before you start writing your job advertisement.
Identify who you're looking for (your target audience)
This might seem like an obvious one, but it's important to attract the right candidates!
You will likely already have a job description prepared which lists the tasks that will be carried out by your successful candidate. If you do not, bookmark this article and go and get one!
Once you have your job description, identify your target audience by reviewing it and pulling out the background, skills, and character traits that an individual would need to succeed at the tasks and responsibilities included in the job description. Make a list of these. Amy Cowpe of HR company Charlie, suggests ranking the attributes in order, to identify what characteristics are the most valuable, and what are just "nice-to-haves".
People with these traits are your target audience.
Identify your USPs (what you can offer to potential candidates)
Next, think about what your target audience are looking for, and what you can offer them. Again, make a list that you can refer to when you are writing the job advert.
If you're not too sure (beyond the obvious remuneration-related benefits such as salary, pension, holidays etc.) a good place to start might be having a chat with existing employees to find out what they like about working for you. Your business plan might provide some enlightenment too.
If it is a new position or sector, Betterteam suggests that you contact people who hold the same job title on a networking site to find out what they would find appealing or attractive if they were applying for a job. You could also look at job advertisements for similar roles for some inspiration.
A recent LinkedIn member survey might offer some guidance too. This found that the top three things that job seekers want in their next role are "good work-life balance, strong compensation and benefits, and excellent colleagues and culture." The percentage of professionals selecting these benefits as their top priority was 63%, 60% and 40% respectively. If these are things that you already offer, you're off to a strong start. Otherwise, consider whether they are things that you can implement as part of your business operating model to give you a more competitive edge.
Job Advertisement Template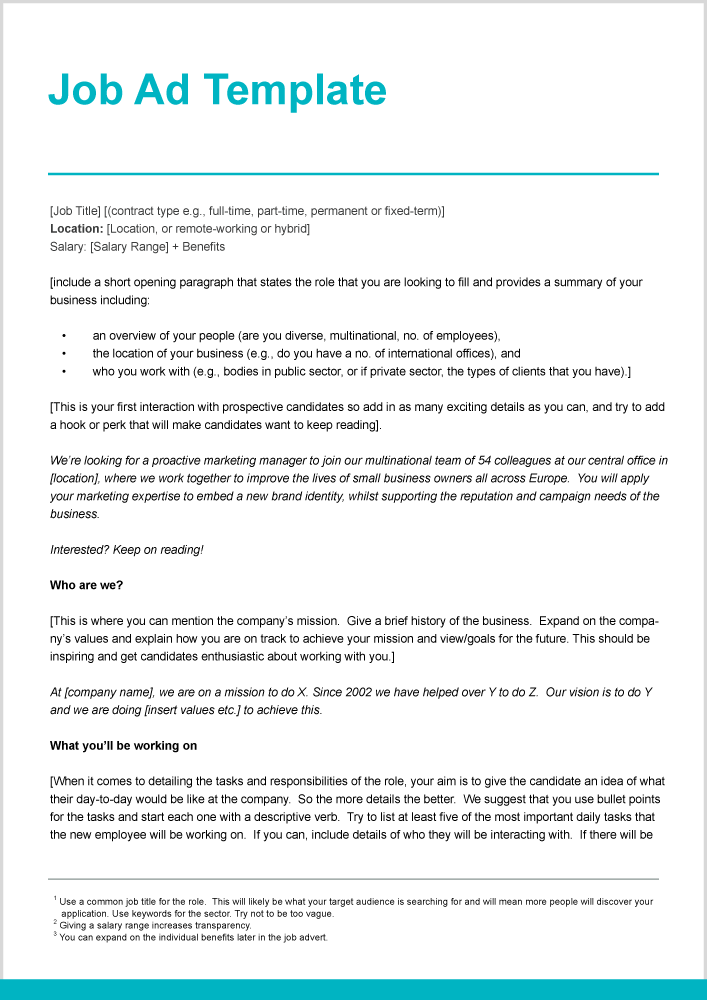 Create a free Zervant account and manage your business finances professionally
Download: Word
5 tips for using our free job advertisement template
Now that you've got your lists, it's time to get writing. Our job advertisement template word document is free to download and includes text (in square brackets) explaining where to put all the information that you have collated above and provides examples (in italics) that you can use for inspiration.
Our job advertisement template follows the typical structure of:
opening
a description of the company
details of the role and tasks
why someone should work for you
the requirements that you would like the candidate to meet
how to get the job (an overview of the application process and a call to action)
We're not going to go over every section of our job advertisement template in detail here (that is for you to discover when you read the template!) but we will highlight some important tips on how to make it work best for you.
1. Be specific yet succinct.
The more detail that you can provide to give a realistic picture of what a typical day would look like in the role the better, as it allows candidates to work out whether the company and the role is for them. Think who, what, when, why!
Keep it short and succinct though, as research has found that on average, a job seeker spends 14 seconds reading a job description before deciding to apply for the role. Shorter job adverts (300 words or less) statistically do better too, convincing candidates to apply 8.4% more often than average. So definitely leave the exact terms of your clients' service level agreements or the formatting of your invoice emails until the training days!
2. Structure is important.
Use bullet points and short sentences along with doing words (verbs) to make your advertisement easy to read and inspiring. Don't be afraid to emphasise key points in bold either!
3. Include links to relevant material.
If your company has a recruitment page on their website, or interviews with/blogs by employees that could give your target candidate an insight into company culture, link to these in the job advert so that they can find out more about you.
If you have the time and budget, you could also consider whether you can create a job advert in an alternative format that might grab the attention of more candidates. Have a look at this LinkedIn article on videos and infographics for more inspiration.
4. If you have the time, ask someone to proofread the advert.
As this will likely be the first interaction that your target candidate has with your company, take the time to get it right if you can. You don't want sloppy typos taking the shine off your great job advert!
5. Promote, promote, promote!
There's no point investing a lot of time in your advert if only a few people will see it. Use job boards, social media, and LinkedIn to promote your opportunity. If you can, ask existing employees to share your advert as well to reach an even wider network of professionals!
Key take-aways
First impressions count! You need to know exactly who you are looking for, and what you can offer to attract them to your job opportunity before you start writing your job advertisement. Take the time to work this out and craft your ad and you will get out what you put in!
More job advertisement template online resources
If you're looking for other materials to help you with recruitment and employment matters, check out our employment contract template and our zero-hour contract template.
Sources for this article included the following sites and job advertisement templates:-