Simple, Powerful Invoicing
Start using Zervant for free and send your first invoice in under a minute
Create Free Account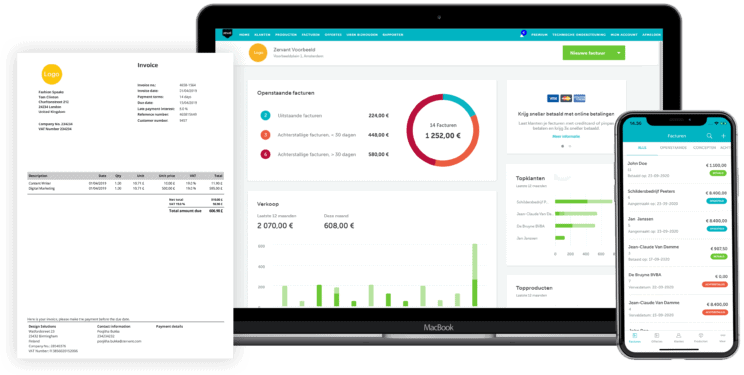 Employment Contract Template
Download for free in Word
Download Template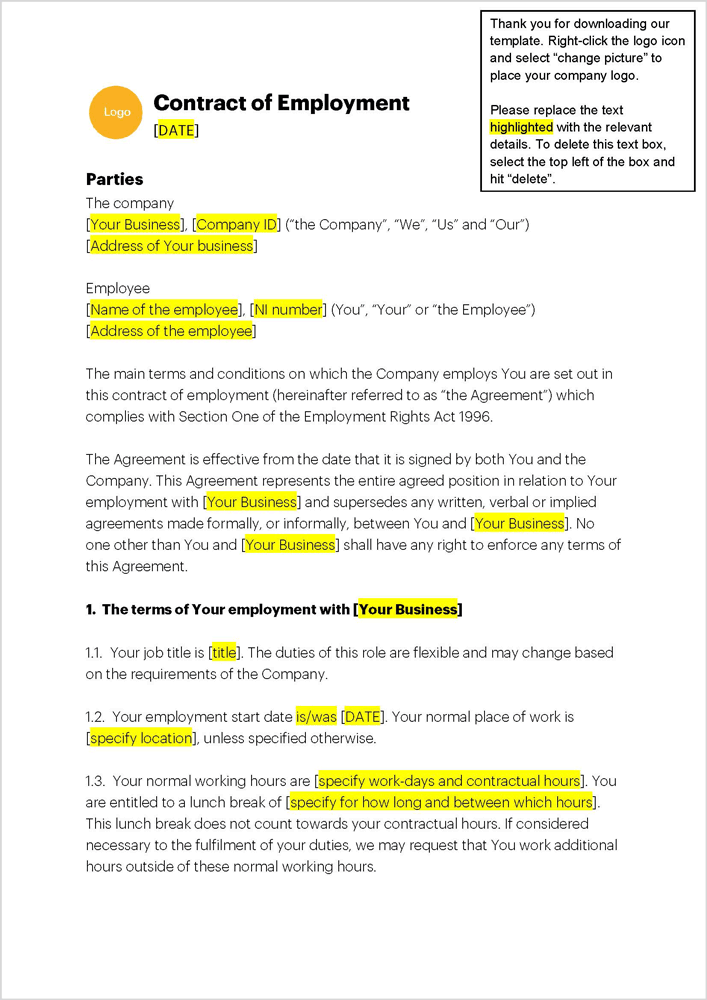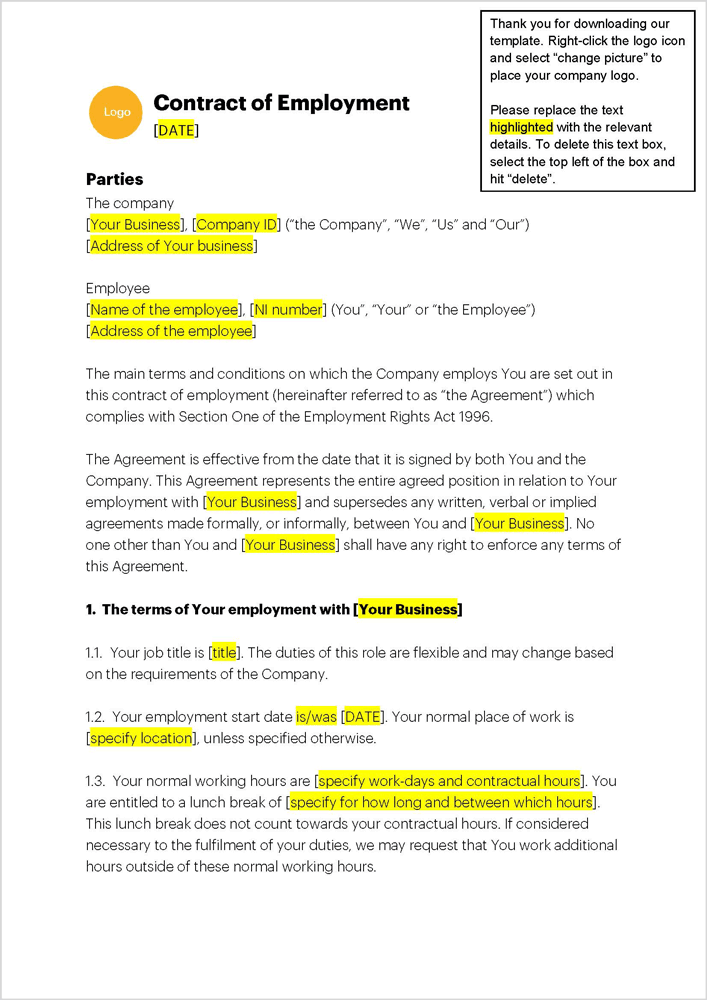 Free Employment Contract Template UK
Taking on your first employee is a big deal, so if you are doing it then congratulations! This is a sign your company is reaching the next stage of the business plan and that you are very much moving in the right direction.
By the way, if you don't have a business plan – get one! It could be the most important document you ever write. Check out our blog article on writing one, which also includes a free template, here.
So, the time has come to get that all-important contract signed, sealed and delivered. Once again, we have got you covered. Our free employment contract template is designed to keep the process smooth and let you enjoy the moment – you deserve it!
No matter if you are self-employed, working in a temporary capacity or doing some freelance work, having a contract is vital. And if you're taking employees and require a zero-hour contract, you can also check out this free zero-hour contract template.
What is a contract of employment?
An employment contract is a binding work agreement between an employer and an employee. In short, it states:
The employer

The employee

Terms of the job

Salary or wage
It also acts as proof of employment, meaning the employee can give a copy to the tax office and you can provide your bookkeeper with the necessary details. If you are still undecided about whether to have a bookkeeper or not, we can help.
Do I need a written contract?
One very important thing to note at this point is that under UK law, once someone verbally accepts a job it is legally binding and a contract has been made. In other words, an employment contract in the UK does not have to be written down.
However, the problem with verbal contracts is that they are hard to prove. Unless you have a third person there as a witness, it is one word against another. The case would then need to go to court, which involves giving evidence and decision-making – all of which is expensive and time-consuming.
One way of making sure a verbal contract is proven is to immediately follow up with an email that lays out the terms agreed.
Can I employ people?
Before offering someone a job, you need to make completely sure that the type of business you are running can employ workers. For example, you cannot employ someone if you are working as a freelancer. However, there is no problem hiring a worker if you are a sole trader. Here, you are trading under your own name, but this doesn't mean you have to work alone.
What do I need to know?
The UK government's website has a very helpful checklist when it comes to employing someone for the first time. You must:
Declare how much you are going to pay

you can pay them whatever you want, but it must be at least or above the National Minimum Wage

Make sure they are legally able to work in the UK

Look into conducting a DBS check if you work in an industry which requires it

Secure employers' liability insurance

Supply a written form of the contract agreement to the employee if the terms of employment are longer than one month

Inform HM Revenue & Customs you have taken on a new employee

Check to see if you need to enroll your employee in a workplace pension scheme
Fill the template in digitally and then print off two copies before getting both parties to sign them. There are some instruction on how to fill out the employment contract template in the template itself.

Employment Contract Template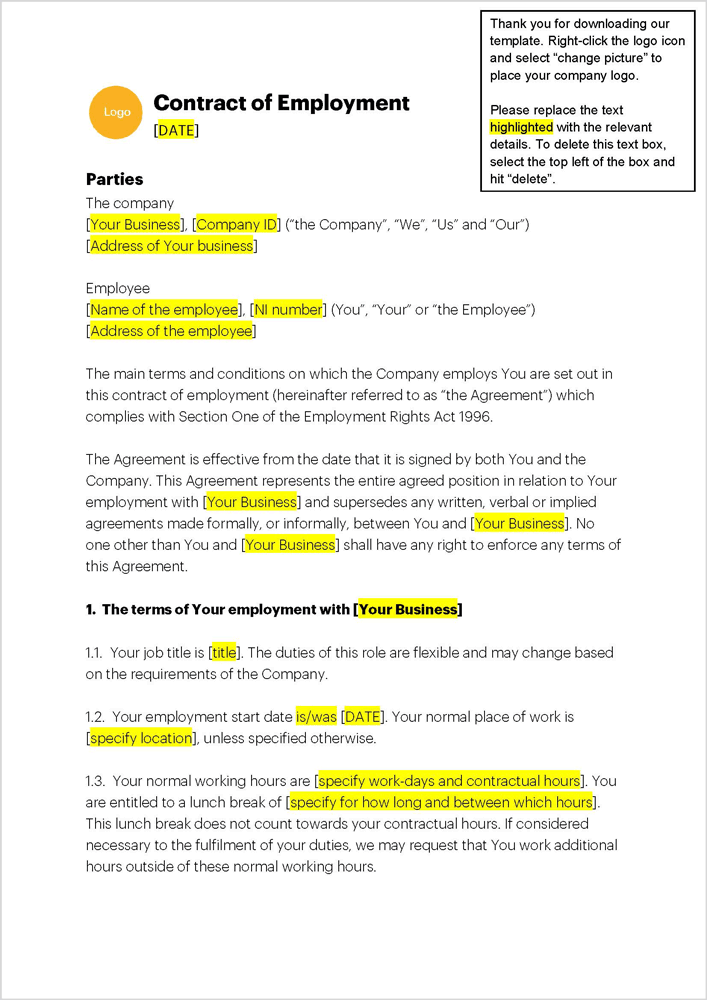 Try powerful, intuitive invoicing
Download: Word
What goes in an employment contract template?
The following must be included in an employment contract:
Name and address of employer and employee

Duties, job title

Workplace (office or home/split)

Form of employment – permanent, fixed-term, probationary

Details of disciplinary and grievances processes

Termination period – for employment that has no fixed end date

Start date

End date – for fixed employment

Probationary employment (if needed)

Working hours (per day/week)

Salary and benefits

How often salary is paid and salary period

Holiday terms

Sick pay and entitlement to sick leave

Insurance you will pay

Pension schemes included
Do I need a service agreement or employment contract?
Service agreements are only used to hire independent contractors or service providers. These contracts only cover a certain, agreed-upon time limit or project.

An employment contract is purely for hiring employees.
If you liked this, check out some of our other super helpful templates: