Invoice Online in 2023 | Why you should switch now
If you are reading this article, then we will assume that you're searching for the best free online invoicing software. We don't want to know how many of our competitors' sites you have visited or are bookmarked for later, we're pleased that you are ready to make a change in 2023.
Whether it was curiosity or frustration with your current invoicing method that brought you here, Zervant is prepared to welcome you into the hassle-free world of online invoicing. Remember, we are a fifth of the way into the 21st century, so it is time to embrace the future and reduce that due-date stress. To read about the future of invoicing, check out our article on E-invoicing as an invoicing delivery method.
Brief history of invoicing
Before we look ahead and explain why you should make the switch to online invoicing now, let's take a moment to look back at the history of invoicing to appreciate how we got to where we are today.
From the first documented use of a process resembling a purchase receipt over 4,000 years ago in the region of Mesopotamia, the development of invoicing has passed countless milestones over the millennia.
While they are too numerous to list out in full here, we should acknowledge Hieronymus Bosch who is credited with writing the oldest invoice in modern history.
He issued it to a king in 1504 following a down payment for a painting, although the Dutch painter may have been better off issuing a pro forma invoice in his case.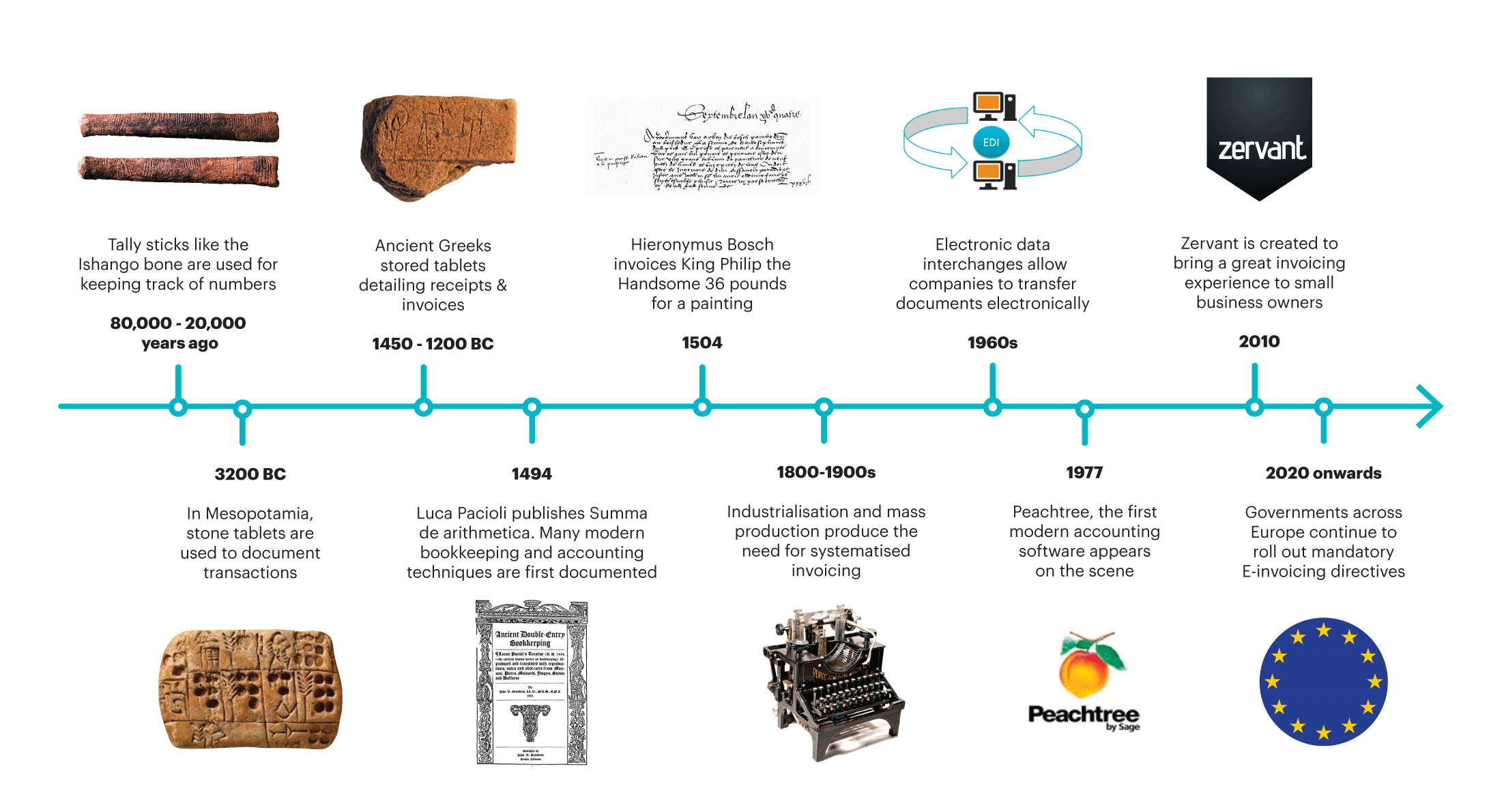 Evolution of online invoicing
The first steps towards online invoicing took place in the 1960s with the arrival of electronic data interchange (EDI), which is the computer-to-computer exchange of business documents in an electronic format between business partners.
While that may be unfamiliar, you will know FTP, the File Transfer Protocol, that was introduced in 1975 and used a P2P (peer to peer) process in which e-documents were directly shared between the systems of the supplier and buyer.
EDI is now transferred via HTTP protocol or VAN (Value Added Network) and 90% of Fortune 500 companies have those capabilities.
We are in danger of becoming historically bogged down in acronyms. Let's summarise by saying that there are now numerous service providers available, like Zervant, who have made it easier and more economical for entrepreneurs to send professional invoices online and accept payments via debit or credit card.
Rise of online invoicing
The widespread adoption of EDI, along with Internet growth and the range of options available to exchange data, have allowed online invoicing to evolve and become affordable. It's no longer exclusive to large companies and is being increasingly utilised by firms of all sizes around the world.
At present though, only 4.5% of small businesses in the UK have used e-invoicing. According to statistics, over 75% of companies still issue paper invoices, with a small percentage still stubbornly sending invoices via the antiquated fax machine.
While online invoicing is a growing trend, the days of emailing, posting and, yes, faxing an invoice are numbered. They are ready to be consigned to the history e-books.
The market is moving towards making e-invoicing the new standard. It is the future and now is the time to set yourself apart from the pack by signing up for a free account today.
Business benefits of online invoicing
Online invoicing is a regular invoice provided in a digital format, meaning that paper is completely removed from the process. This instantly makes it easier, cheaper and more efficient.
Your invoices are created, sent, received, processed and archived electronically. This eliminates the traditional method of printing or scanning, posting or emailing, and then waiting for the recipient to handle them manually.
According to the EU, the main benefits include:
faster retrieval of money by reducing the time an invoice or payment is in the post
reduced printing and postage costs
quicker and cheaper processing as the information in electronic invoices can be fed directly into a company's payment and accounting systems
In addition, it not only reduces the risk of errors but will save you both time and money.
Environmental benefits of online invoicing
Switching to online invoicing can help reduce your carbon footprint and the impact of your business on the environment, as well as support the fight against climate change.
Here are some reasons how:
Save money – decrease printing and postage expenses
Reduce waste – use less paper, ink cartridges and energy
Clean the air – a tree can't exactly remove CO2 from the air if it's turned into paper
Fight deforestation – 10% of trees cut down worldwide become paper for invoices
https://www.billentis.com/The_einvoicing_journey_2019-2025.pdf
https://en.wikipedia.org/wiki/Pulp_(paper)
https://www2.deloitte.com/content/dam/Deloitte/au/Documents/tax/deloitte-au-tax-insights-5-e-invoicing-310321.pdf

Deloitte Access Economics estimates that there are over 1.2 billion invoices exchanged annually with 89% of SMEs still processing paper-based or pdf invoices.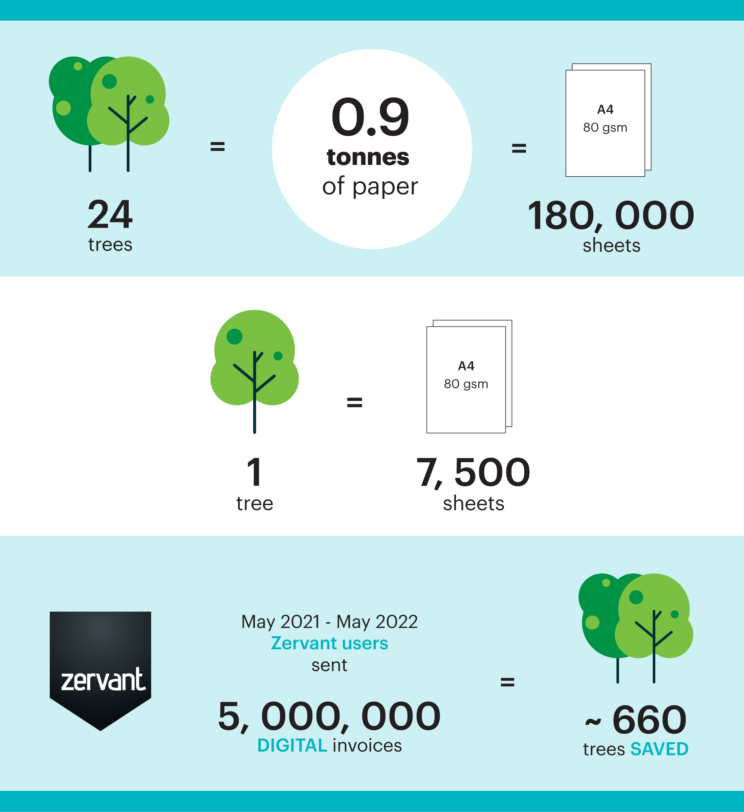 How can you try online invoicing?
As your exhaustive research will have revealed, there are multiple ways to an online invoice maker free of charge. There are online invoice generators and trial accounts, as well as online invoice templates in a variety of formats – ranging from PDF invoices to Google Docs, Word and Excel.
These are all sufficient options in the short term but considering that the theme of this article is the future, you should be looking at the long-term implications of your choice. As a provider of free invoicing software, we believe that cloud invoicing is the superior road to travel.
Zervant has the specialist tool that your business needs. Its speed, cost and accuracy will help you "work smarter, not harder", while ensuring that you get paid faster, especially for those recurring invoices. Online invoicing is becoming the new standard and you should get on board now.
If you have any questions about Zervant or if you'd like some helpful tips on how to create and send invoices, please get in touch and we can help you!