Powerful, Simple Invoicing
Zervant is free to start using today
Create Free Account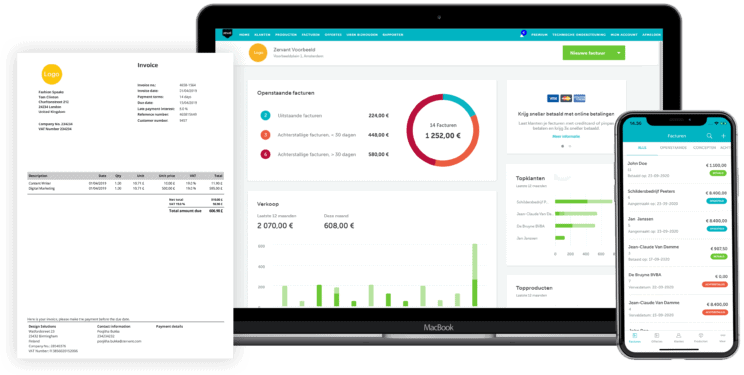 Cold Sales Email Templates
Send better cold emails today
Got To Templates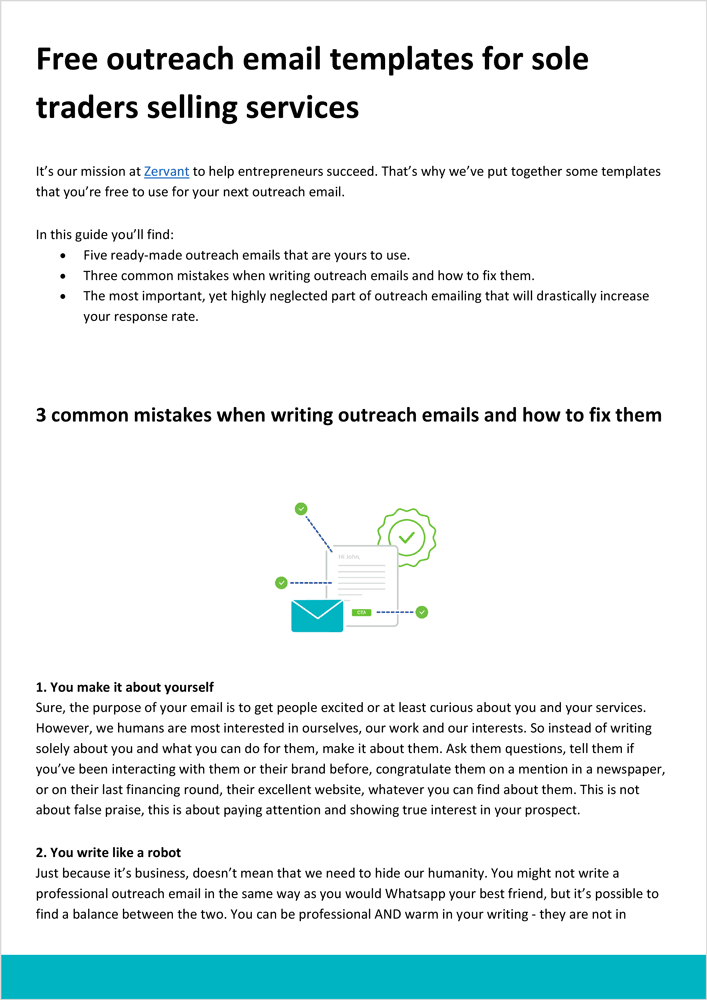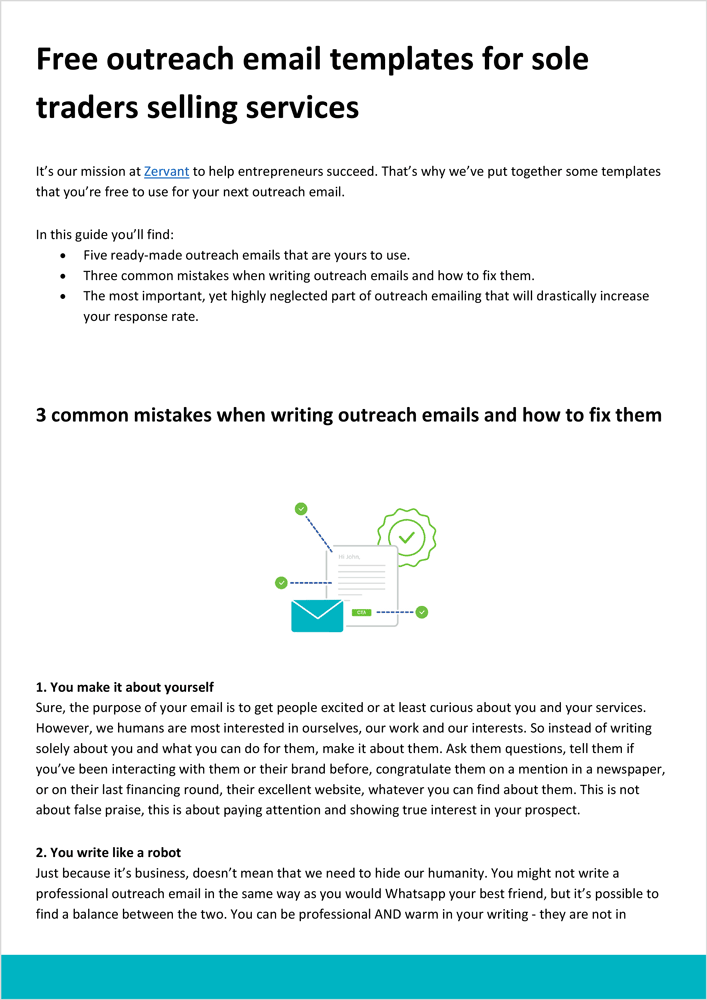 Free Sales Outreach Email Templates
There's one thing that many entrepreneurs consider one of the least popular tasks of running your own company. No, we're not talking about chasing late payments, paying taxes or handling a difficult client – we're talking about the infamous cold-outreach email.
If your first reaction to reaching out to new contacts in order to get new business gives you the chills, you're not alone. A lot of entrepreneurs struggle with that less popular (but so important!) part of growing a business as a sole trader, especially when selling services.
To give you a better overview of the whole topic, here are some quick questions and answers about cold emailing.
Sales Outreach Email Template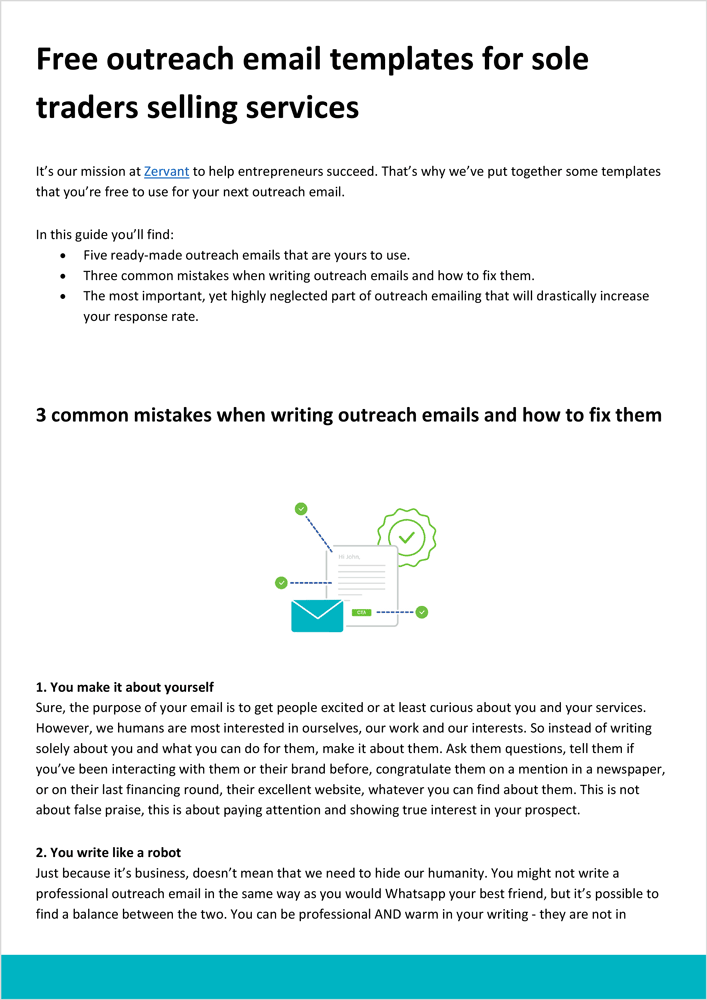 Outreach with effective invoicing
Download: Word
Cold email FAQs
1. What is cold emailing?
Simply explained, cold emailing means that you write an email to someone you don't know, in order to start a conversation about something. Entrepreneurs use cold emailing to get new customers, partners or PR for their businesses.
2. What should I write in my email?
In this article, we'll provide you with tips on how to craft your outreach email. You can even download a free guide on writing compelling outreach emails and templates at the end of the article!
3. What if my prospects find my emails annoying?
If they find you annoying, it's none of your business. Your business is to spread the word about your company and you will always encounter people who are not the right match for you. Sure, you shouldn't spam your prospects with a tonne of emails, but you should try to get their attention with some well-crafted sentences.
4. What if I get rejected?
If you receive a rejection from a prospect, remember this: in most cases, it's not about you. We'll explain this in more detail shortly. But first, the basics.
Why writing compelling emails is important for entrepreneurs

Writing emails is an essential part of your daily job to get the business up and running, especially if you're just starting out with your own business!
5 reasons why outreach emails are good for your business
Let prospects know that you and your business exist.
Attract suitable partners for your business.
Pitch your idea to journalists and get published in newspapers and blogs.
Obtain grants and funding for your next idea or project.
Communicate and sell effectively to your existing customer base
If you're used to simply pick up the phone and call people, you might be wondering why you should bother writing emails. Remember this: a confused mind always says no!
When you send an email to a prospect you give them the time and space to think about your offering. If you haven't introduced yourself via email first, no one will pick up the phone for you, yet buy from you.
It's clear that writing compelling emails is not only important for customer acquisition, but also for making connections and creating a network around you, your company and your overall brand.
How to choose between personal and standardised emails

Here's the crux: crafting personal emails will give you better chances of getting a response from your prospects. However, they require you to do a lot of homework, meaning proper research and getting to know your prospect better, which takes time.
Then again, if you send out standardised emails, you can reach a lot of people with minimal effort and thus you're able to spread the word about yourself and your services.
The downside is that standardised messages are less personal and therefore it's less likely that you'll get a response. Why? Because we humans love to feel special – we don't like to be one in a million.
What to do?
Like with everything in business, it depends.
If you're selling services that require your prospect to make a big investment, you should aim for quality over quantity. Think like this: if you're expecting your prospect to invest a substantial amount of money and time (to get to know you and your services), they can at least expect a well crafted and personal email from you.
However, if you're offering services that are easy to commit to and cause little costs to your customer, aim for quantity in order to reach as many people as possible.
Why a handful of outreach emails is not enough

Writing random cold emails to potential customers is like shooting in the dark. You might get lucky, but chances are high that you'll miss or hit the wrong target.
Don't make the mistake of assuming it's enough if you send emails to a handful of companies and they will happily pay for your services. With so many things in life, it's all about quantity. Depending on your business and the type of services you're offering you might need to send out a lot of emails before you get the message across. By a lot we mean 30, 60, even hundreds of emails. This is a common practice amongst sales people and depending on your email and offering the response rate to cold emails is around 1 out of 10.
Don't get discouraged by that. Everybody starts somewhere and if you want your business to succeed, you need to do the work! Keep improving your emails, services and keep hitting that send button!
Why you should get used to rejections

Now the reason why many entrepreneurs are dreading cold emailing is the fear of rejection. We humans are wired to avoid rejection at all costs. Why? Because back in the cave days, rejection would mean that you'd become an outcast with no shelter, food or a community to protect you. Basically, rejection meant death.
Thankfully, we've developed ever since and can accept rejections as a normal part of life, without having to fall into a state of panic.
There are a couple of reasons why you might get rejected:
It's not about you, it's not about your product – people are just too busy to thoroughly read and think about every single email they receive.
Your product isn't the right fit for the company.
They are already using somebody else's service and don't have the resources to switch.
Your product is not the right fit for the company right now, but that doesn't mean it will never be in the future.
If you receive a rejection it means they have read your email, were thus made aware of you and your business, and that your email was well-written enough to trigger a response. This is a very undervalued metric of success. Chances are high that they considered your offerings (at least for a while), otherwise, they wouldn't have made the effort to answer you.
Remember this, rejection is better than being ignored!
Free outreach email template for selling services
It's our mission at Zervant to help entrepreneurs succeed. That's why we've put together some templates that you're free to use for your next outreach email. With templates like this, you'll save a heap of time on administrative tasks and improve your work-life balance.
In this guide you'll find:
Five ready-made outreach emails that are yours to use.
Three common mistakes when writing outreach emails and how to fix them.
The most important, yet highly neglected part of outreach emailing that will drastically increase your response rate.
We wish you all the best and lots of customers for your business! When you're ready to invoice your happy clients, be smart and choose an easy option like Zervant.
Invoicing doesn't need to be difficult