The first step towards getting paid is a quality quote template. So here at Zervant we've created this free one for you. It comes in Excel, and is ready to download. Simply click the turquoise button below!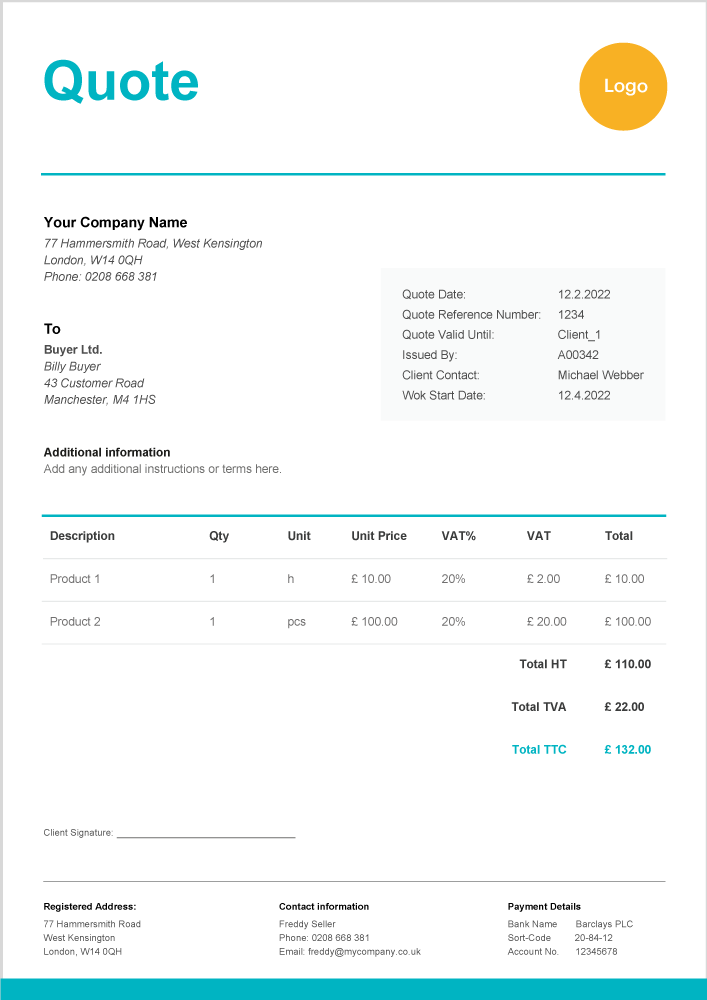 There are plenty more FREE TOOLS over on our blog including invoice templates, mileage logs, stock take templates, and timesheets.
Quote Template Instructions
---
You can send this template as an email attachment, or print it out and send it in the post (it all fits onto one side of A4). The template will automatically calculate VAT and total amounts to be paid. All you need to do is enter the applicable VAT rate.
Have a quick look at these pointers before filling in your quote:
In the top right include the date you issued the quote, and how long it's valid for.
There's an optional field for a client reference, which makes it easier to organise what you've sent, and to who.
Even though this is only a quote, it's a good idea to state your payments terms from the off.
For the additional information text box you should add (if relevant) an approximate schedule for when you'll provide your services. Also make it clear if the price quoted is liable to change (the template you've downloaded includes example wording for this).
Finally, don't forget to get written confirmation your client is happy with what you've quoted (we've also included this in the additional information section).
Et voilà! Your quote is good to go. The next step is to prep your customer invoice.
Want something that's even easier than Excel?
Zervant helps you create and send invoices.
What's more, it's completely free. Sign up today!