Take Your Business Online | The benefits and challenges
After deciding to take your business online, determining the next step can be overwhelming. Where do you start, how much does it cost to run and what's the biggest challenge for most businesses when setting up online?
The biggest challenge for most businesses is developing a proper plan of action. To help, our team at Zervant have prepared an overview of the basic resources to get your business online in no time.
What is a website anyway?
Technically speaking, a website is a collection of connected documents, held in a folder which is stored on a server (which is basically just a computer that is always on). This folder has an address which, when visited by using a web browser, allows users to access the folder to view the files. With us so far?

One way to visualise a website is to think of it like a building. The face of the building is like a website home page – designed to entice people so that they may venture further inside. Each floor is a different page on the site – supporting different functions and with different purposes.
Underneath this building are the foundations and all the plumbing and wiring which the building needs to operate. This complicated, hidden network is the code and the systems which power the sites across the internet.
The internet is like a city!
So if a website is like a building then the internet is like a giant, ever-expanding city. Skyscrapers are big websites with many pages. Small buildings, they are the little websites – the local bakery or a small B&B's website.

The roads and alleyways that link buildings together – these are links between sites and these are absolutely vital for your website's success.
If there are no roads to your building then how do people get there? The more links which lead to your website, the more likely it is that someone will stumble on it.
Volume isn't the only thing to think about – if links go between websites who share a customer base, then it's more likely that traffic will flow. For example, let's say that people who enjoy gardening tend to be older and that older people also shop at Waitrose more frequently than younger people.

It then stands to reason that building a road between the two would lead to some shared traffic.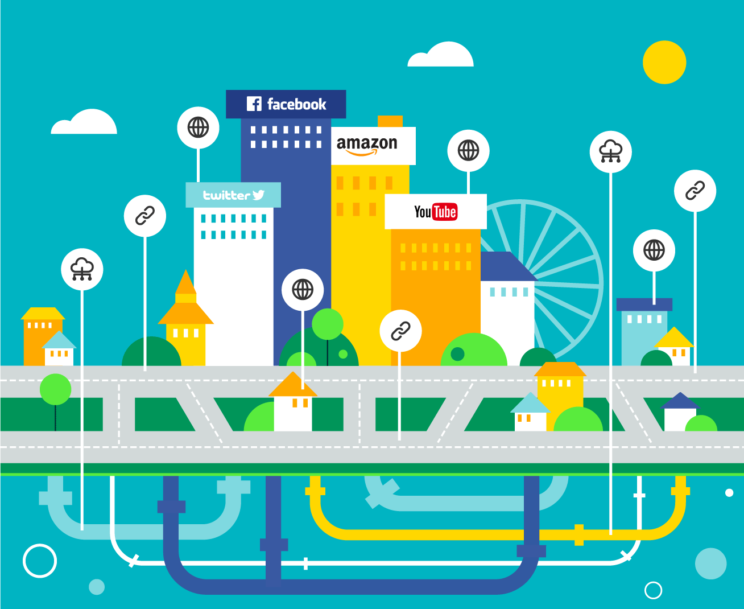 How do you set up a basic website?
Of course you can hire someone else to build your website, or even build an in-house team to manage this important aspect of your business, but if you're reading this article, chances are you are looking to get your hands dirty and build this thing on your own.

In 2022, creating a website is easy thanks to the numerous tools, templates and options available. In fact, it shouldn't take you longer than an afternoon to create a basic site that your customers can start visiting!
We can split website building into two rough categories based on how involved you would like to be (and how much you may need to learn).
The DIY build
With a DIY build, you'll have to tackle the following three problems:
Domain name – get yourself a domain name that you love.

You can purchase domain names from a domain registrar. Pick a unique and memorable domain name (hopefully it's still available). Pay attention to the popular TLDs (top-level domains) in your field – you can register multiple and connect them to the same site such as having ".co.uk" for use in the UK and ".com" for use internationally.

Domain registrations must be renewed periodically – this is often done annually and many registrars charge a fixed-rate per year, though you may sometimes find bulk discounts. One thing to look out for is whether your preferred TLD is available with a provider. Some domain registrars based in the USA may not sell .co.uk TLDs for example.

Many domain registrars double up as hosting providers and offer free registration when you purchase package deals. If, for whatever reason, you want to purchase your domains separately, Google domains offer fixed-rate renewals and a very familiar interface which links up with other Google services you might already use.


Hosting – choose a host who offers good support and reliability above all

Website hosts are companies who keep a bunch of servers running at all times so that websites stored on their servers are always available to the public. As a site owner, you rent space on one of these servers to store your website files.

On top of being always-on, these servers have to be extremely secure and have a huge capacity for data transfer. Thousands of people might want to access your site at once and the computers have to be extremely powerful to allow this. Also, a site hosting service may store your site across servers worldwide.

Site hosting services also offer data protection, security, backups and much much more. There are thousands of hosting companies to choose from, with packages varying in price based on what your website needs, how much bandwidth you require and how much storage you would like.

For serious users, SiteGround are practically unmatched in the UK when it comes to speed and reliability. Their servers are built on Google Cloud data centres which are located all around the world.


Site Building & management – this is where it gets complicated.

A fully custom website built from the ground up is going to be a massive learning curve and require a LOT of time investment. It's an entire career for some people and not something an absolute beginner should do if their website is important to how their business operates. That being said, you can still do it yourself by cutting out the raw coding aspect.

Site builders are online apps which allow you to construct websites easily. Choosing what your site can do and design choices like choosing the colours, fonts and images are still yours to make, but without the trouble of coding these. Usually, you will start off with a template. The template will determine things like the layout and colour scheme of your site, what functions users can perform on your site and much more.

43% of the web and the site you're reading this on right now is built on WordPress – an open-source content-management system, or CMS for short. WordPress features a template-based website builder which gives you an easy to use interface for building and maintaining your website. WordPress templates are called themes and you can find many for free across the internet or choose from almost 10,000 free themes on WordPress.org.

There are thousands of great online tutorials on how to build a website on WordPress, but just make sure you visit WordPress.org to download the WordPress software for building and hosting your own website and not WordPress.com, which is an all-in-one solution with managed hosting.

All-in-one solutions
An all-in-one solution ties together the main components of website building into one monthly payment and an integrated service. Create an account, pick a domain name and build the site using drag and drop tools and pre-built templates. Most have a small learning curve and have great onboarding tools to get you started. Some of the big players to consider:
Wix – versatile and beginner friendly, Wix is the best-known site builder on the market for a reason
Squarespace – if you want a beautifully-designed template Squarespace is unbeatable – the learning curve is a little steeper and it's slightly more expensive but worth every penny if it's aesthetics you're after
GoDaddy – combining low-cost, easy-to-understand hosting and site-building packages, GoDaddy run great promotions and have just about everything you need for any type of website.
All-in-one solutions should be suitable for most small business owners though, ultimately, if your site requires specialist functions or if you produce a lot of content and get a lot of visitors you may outgrow what an all-in-one solution can do.
Tips for registering a domain name
Selecting your domain name is the first step in moving your business online. Preferably, it should be a true representation of yourself and your business, advises SmallBusiness.co.uk, so take your time and research all the available names, including the alternatives.
Most domain registration services offer name checkers, such as The UK Domain, that will tell you if a particular domain and extension (".co.uk") is available.
When choosing a domain name, ensure that it is simple to spell, short, descriptive (contains a keyword) and is memorable. The e-commerce platform Oberlo also offers these guidelines:
".com" should be your first choice
Avoid hyphens and numbers
".ca" and ".uk" work well for local businesses
Avoid trademarked domains
How much you pay will depend upon the provider and the extension you choose. The ".com" domains usually start at £9.99 per year, while ".co.uk" domains will cost you a minimum of £4.99 annually.
In addition, most providers, such as Domain.com, GoDaddy and NameCheap, offer free email addresses, which can typically be set up once the registration is complete.
What are the legal issues when moving a business online?
Tips for building your website
Small businesses are unlikely to have the money to spend on hiring a website designer to build a bespoke website. Thankfully, there are several platforms providing a host of website builders that are easy to customise to your specific needs.
Weebly, Wix, SquareSpace and WordPress are just some of the many options available. Most start by offering a free trial with limited features and templates before asking you to commit to a full subscription.
However, StartUps.co.uk recommends opting for a paid version straight away. The free accounts tend to make your site look less professional, prevent custom domain names and run their advertising on your site.
Business Plan Template | Free Template to Download in Word, PDF
Importance of Facebook and Google
"For many businesses, social media accounts have been little more than an online directory listing," author Phil M Jones told Forbes. He adds that "businesses who use their social media accounts as their first lines of connection with customers are seeing tangible advantages."
To gain that tangible advantage yourself, begin with Facebook and Google.
Facebook
Set up a Facebook Page for your business in addition to your personal Facebook account. SmallBusiness.co.uk notes that this page "will only be seen by people who have "liked" your page — in effect, they're giving you permission to advertise to them."
Google
While having a few keywords related to your business on each web page will help your ranking in Google searches, the search engine giant also offers another free service. 'Google my Business' will help you interact with customers, help them to find your business and even post reviews.
How to finance a new business | Investors, loans & grants
How much does it cost to run a website?
The cost of registering, building and paying the annual subscriptions will vary depending upon the service plan you take or how long you spend tweaking your preferred template (your time costs money, too). However, most estimates put the annual cost of a website for a small business between £500 and £1,000.
Zervant believes it is money well spent because it will be another step on the road to effectively modernising your business. As a respected supplier of online invoicing, we are a passionate supporter of anything that helps your business to "work smarter, not harder".
If you have any questions about online invoicing, please get in touch and we can help you!
Try Zervant's free invoice templates or our free invoice generator.