Customer Story | Meet Web-Creator Kaisa Hyvarinen
We caught up with Kaisa Hyvärinen, to hear her inspiring story about part-time entrepreneurship and how to run a company on the side.
Kaisa works full-time in a digital printing company, which takes her the normal eight hours per day. In addition to this, she has always been interested in part-time work. That's why she founded her company Mediahuone. Mediahuone is an advertising agency based around creating websites for small businesses and associations.
After her full workday at the printing company, Kaisa dives enthusiastically into her work at Mediahuone. She's the sole employee of the company, but she has partnered up with a photographer and two translators.
According to Kaisa, the best thing about being a part-time entrepreneur is being able to be stress-free about income – her full-time job secures her livelihood. Kaisa really enjoys creating websites, which helps to keep her motivated, although often the length of the working days, and getting enough time to recover from them, can be a real challenge. However, her routine of working on digital printing during the day, going jogging and taking care of everyday chores, then working on Mediahuone and the obligatory accounting and invoicing, helps her to keep things in balance. Kaisa also tries to have at least one day off a week so that all her time isn't spent on work!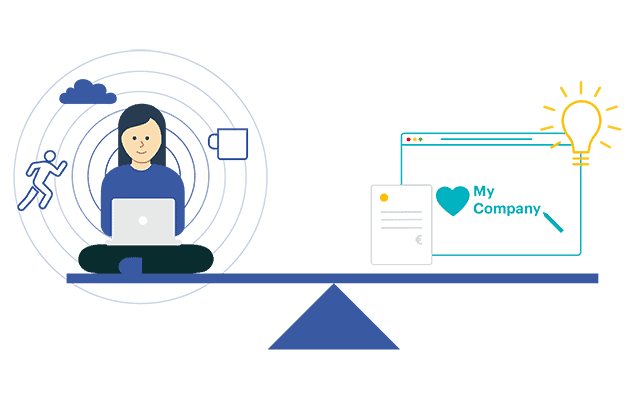 A key piece of advice Kaisa would give to other entrepreneurs would be the importance of networking. She discovered that it's a great way to receive good tips from other entrepreneurs – it's also how she discovered Zervant. At first, she handled all her invoicing with Excel, but following a tip from an entrepreneurial contact of hers, Kaisa decided to try invoicing with Zervant:
"I was immediately pleased with the ease, features, interface and keeping track of invoices in Zervant. There is also a clear list of customers, which is helpful. It's nice to follow the development of your company – especially when there is a lot of work."
Kaisa cites the flexibility of invoicing, as the biggest benefit of Zervant – invoices can be sent directly to customers, regardless of time and place. The customisable nature of invoices in Zervant was also very appealing to Kaisa:
"…it's nice to be able to send a professional-looking invoice. The appearance helps to showcase the professional nature of my company to my customers."
Discover more about Kaisa's company Mediahuone.